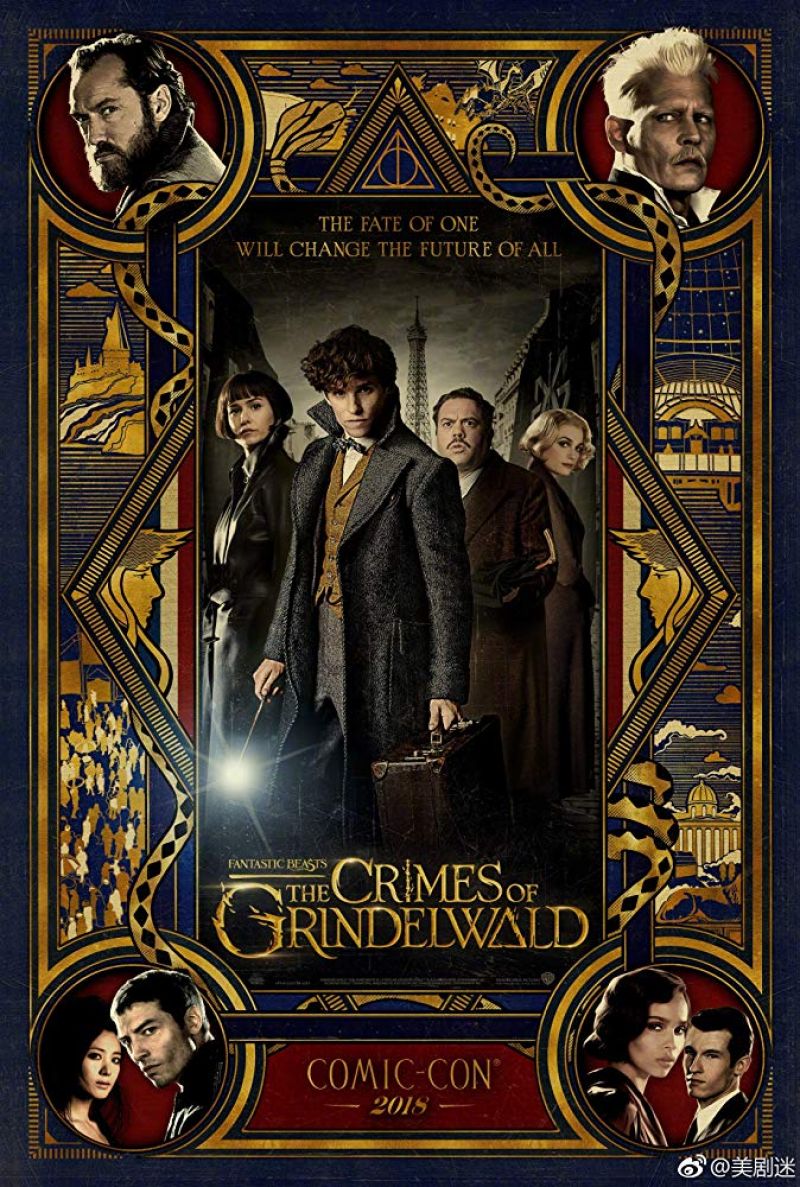 2018       PG-13        2:14      adventure Fantasy Family
Stars: Eddie Redmayne, Katherine Waterston, Dan Fogler,Jude Law, johnny Depp,Zoë Kravitz ,Ezra Miller  (full cast)
So in my search for a poster image to use, I really didn't care for any of them  but this caught my eye, however it was for a comic con but what a great (collectible) poster or postcard it would have made for the movie.
Is it just me, or does it always seem the Potterverse has a rain storm during chases?
This one seemed less about the beasts and more of a political drama, however we do meet some new creatures and old, our previous Niffler friend is back with more fun. As Doublemint gum used to use "Double Your Pleasure Double Your Fun"
After seeing this and watching (I think it was) 'Crikey!' it's the Irwins; I've come to figure out or so I believe Nifflers are a furry sort of Echidna and something else but can't recall that other similarity right now. Maybe it's like a hamster or some other rodent that is like a pack rat.
There was some Bearded dragon/Thorny Devil looking lizard in the beginning.
Maledictus to remind you- in short is Nagini. full definition is a female individual who was a carrier of a blood curse that would eventually lead her to turn into a beast permanently. The curse was carried from birth and was passed down from mother to daughter.
We learn early in the movie that Albus Dumbledore was not the only in his family to have a Phoenix.
Dumbledores

' have a special connection with phoenixes.

Something about Phoenixes coming to the aid of the family.
(really do wish they would put a card on screen telling you what each beast is, or at least have some promotional collector cards to give out  for those that don't have a great memory for descriptions..to have the visual identification. (I wish they would make an actual book that looks like the one in the movies. I think there's a new book that has images of all the animals so I have to see if I can find that. Not sure if this is it or not  The Case of Beasts–Fantastic Beasts and Where to Find them
This IS an Illustrated version of the Fantastic Beasts 'text' book
This below I think it was called  a Tso  or Tao  I would have to look through my own Beast Book and see if there's some art for this one in it.
as well as this  Puffer lion or Lion Puffer as I called it They showed a kelpie which is basically A giant seahorse
A Murtlap, Fire crab (I want to make one) and MoonCalfs
Here's a page with some Fantasitc Beasts from both Movies.
WHOA! Was that a dragon with many heads or a few dragons? Sorry I love dragons!
ooh that looks pretty; just got the goosebumps, that looks like the fire from the Tri-wizard cup.
Definitely not as good as the first of the series. I am mildly disappointed with it.
I do need to say, media outlets need to shut up about some of the things (even if JK Rowling gives approval on a 'spoiler')
Now some of you may remember a Certain Wizard mentioned in the first Harry Potter Book/Film. That said wizard I had heard was supposed to be in the movie.  Now something like that, maybe even a bit minor should not have been revealed. As soon as I saw the guy I knew who it was supposed to be. (When you see them even if you didn't hear of this famous 'wizard' you should know who it is if You read or watched the books. (especially considering they seem to be on constant loop on Syfy channel the past 2 months (October & November) oh wait about that… still showing and its now December!!
In the movie we learn that of which the characters think who Credence is, and I will say no more other than; (and I'm not sure why but) I was thinking somehow related to Grindewald.  He seemed enamored with the boy, but knew he was very powerful or may be the very powerful wizard they are looking for.
Now even though I was a bit disappointed with maybe a quarter or half of the movie,  (there's a stretch where I got bored) I've got a secret about Credence Barebone which made it all worth it.
So if your movie theater has waiters that wait on you… don't order when you get there… wait until at least the beginning of the movie comes on. I ordered my goodies the moment I sat)
Good thing I went matinee time, as full price to me would not be worth it. Though maybe it would take me another watch or 2 to warm up to it.
Eddie Redmayne Teases A Major 'Fantastic Beasts' Shocker
Johnny Depp Feels Bad J.K. Rowling Had to Defend His Casting to Harry Potter Fans
creatures from the harry potter spinoff movie appear in real life