2017  PG-13 Sci-fi   Comic adaptation    Dane DeHaan, Cara Delevingne, Rihanna,  Clive Owen,   Ethan Hawke
Based on a French comic series Valerian (DeHaas) and Laureline are United human federation agents (not time traveling agents as the Netflix sleeve says) and wait UHF.. wasn't that some frequency or something on the old TVs, and a Weird Al Yankovich song or movie?
The 'City of a thousand planets'  (population 30 mil and 5000 languages NOT including computer languages) was a space station that was 'docked' in Earth's atmosphere but when it became too big (and heavy) they sent it out into space. We have a beautiful paradise of a Beach world and I want one of those cute little creatures! Oh my.. after what I just saw it do, everyone is going to want o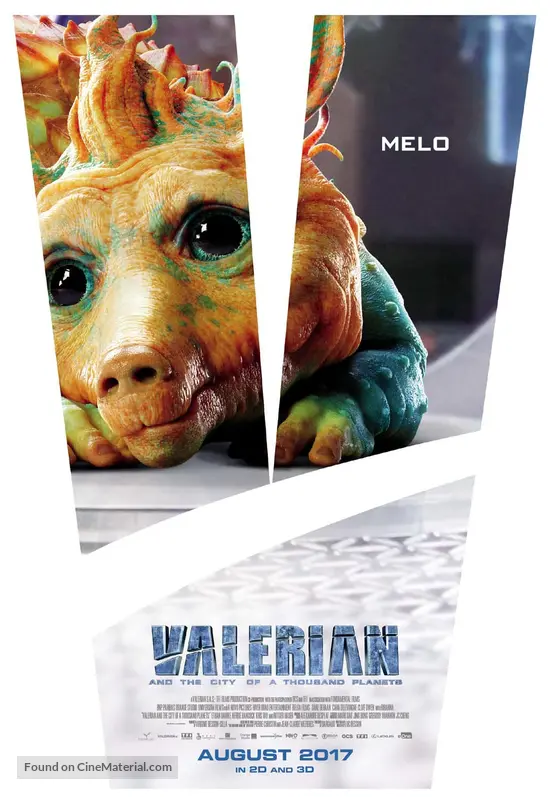 ne!  One of the 'fish people' I guess its royalty or some form of leader reminds me of was it Ramses that was in the movie 300?  Oh man are those multi-colored clouds pretty!
I will tell you right now.. if you do not have an HDtv and at least a blu-ray player (or better) to watch, wait until you do. Rihanna's "Bubble" character is cool, as well as her part. I enjoyed all the different (and creative) beings in this world although some did remind me of creatures from other movies and shows, one of them I would swear was from Star Wars. I could be wrong on this, as I have not watched the original Star Wars movies in a long time but better to 'remind me of, than to look just like. If it reminds you of something from some other movie or show then it could have been based on it as the person who created it might be a big fan and wanted to pay tribute to who and what made them want to become a creature designer.
It was no Avatar but there are parts that took my breath away as did Avatar. But man I would love a television screen the size of the wall and a more expensive HD you know the kind that you actually try to reach into the screen to grab a piece of food from cause it looks so real like it's sitting more in front of the screen than in it. There's been a few of those when I've gone to Best Buy or P.C. Richards that I thought I could reach in and grab or pet whatever was on screen.
Oh and somewhere along the movie I'd swear i saw a Pokemon!
I think I can understand why some (many?) were not happy with it. The fact that the trailers showed us the bright colorful eye-candy parts that one would marvel at, but its not all Pandora and Turoks. They show a dark underworld of the city, just as any other city has. Speaking of Pandora, there were elements of in the MÜL people that reminded me of Na'vi from Avatar.
I enjoyed the mystery of the movie but I still figured out who was behind it first, it was more a matter of why did they do it for me.
Maybe there are a few scenes that run on a little longer than they should. The FX I give an A, Story I'd say a C same for the 2 stars. Overall a B for effort but then I never heard about the comic until now. Not sure if the comic is of the same name but I wouldn't mind looking into finding one to give a read.