Drama Actress     Ellen Barkin (animal Kingdom)  Katheryn Winnick (vikinngs)    Olivia Munn   Danai Gurira
Episode  Blindspot s.4 E 11    Careless Whimper & E 12 Book of Secrets
Supernatural  S14 e13  Animal Kingdom
BEST CHARACTER  Smurf  (Animal Kingdom)
Show Animal Kingdom
Bromance/ Bromance moment –
New Show – Masked Singer
Supporting actor–  
competition show   The Masked singer
Netflix -Black Summer
Anthology series–  American Horror Story        The Terror
Outstanding performance – Ellen Barkin   Animal Kingdom 
Welcome Back–   Matt Barr 
streaming show  (Netflix) – watched way too much and can't decide Netflix Summer2019  & Viewing Tricks and Treats2019
Best new Summer Show– Blood and Treasure
Fights There were quite a few in Blood and Treasure
Good-byes to shows (who are in last season)\
Supernatural, Vikings, Arrow 
Commercials
OREO "Let's Stay Playful"
Late entry… and as much as I despise the company… the kid version of me loved the commercial  
and if you are interested you can even watch a making of….
SPORTS
Man Tackles Brett Hart during WWE Hall of Fame
Book– Toil and Trouble 
BLOGS
https://www.mumblesandthings.com
POSTS
Blogs   Games- https://boccobsblog.com   Dungeons and Dragons
A moment of Silence for those we lost
Pioneering Paranormal Investigator Lorraine Warren Has Died
Rutger Hauer 
Albert Finney (Annie's Daddy Warbucks)    Bob Cole (Toronto Maple Leafs Announcer) Peter Tork (Monkees)
Radio personality Don Imus
Katherine Helmund (Who's the Boss)     Nathaniel Taylor (Sanford and Son)    Keith Flint (The Prodigy's singer)
Lisa Sheridan Jeraldine Saunders   Morgan woodward  Pedro Morales   Kristoff St. john (Young & the Restless)
Julie Adams   Neal James   Dick Miller   James ingram  Kevin Barnette  Steven Levy  Carol Channing
William Morgan Sheappard (Doctor Who)    Daryl Dragon   'Mean' Gene Okerlund (WWE)     Doris Day  Tim Conway
Terrible Ted Lindsay (Detroit Redwings)  Luke Perry (90210 & Riverdale)  'Chewbacca' actor
King Kong Bundy (wwe)  Harley Race (WWE)  I.M. Pei (Louvre Pyramid Architect)
Looper's Actors we lost in 2019   * Celebs we've lost in 2019
And last but certainly not Least
I hope you and my Sully are getting along. Maybe she can turn that frown upside down like she always did for us
Movie of the year Nominees 
Godzilla    Train to Busan      Bad Times at the El Royale     Overloard     Knives out
Most Rewatchable    Den of Theives      The Predator
moldy oldy– The Spy Next Door  Orca   the Little Princess (starring Shirley Temple) rebel without a cause  Rosemary's Baby
Netflix watches– Tales from the Hood 2     Train to Busan    Polar   Triple Frontier
action– Den of Thieves  sword master (2016)  John Wick
HorrorHaven't seen annything better 'horror' wise than Godzilla King of Monsters    Best Posters   
Best Death – Train  illa  King of Monsters (a bit of a spoiler)
Comedy– Life of the Party     Home sweet hell    Night School  Knives out
Favorite Rentals– John Wick 3    
Surprise Catch (on television)   the Spy Next Door
Best Movie(s)–  
Mystery–  Knives out
Performance–  TIED   Chris Evans & Daniel Craig Knives out
Scared as $h!+ performance –
Thriller -Cold Pursuit       Den of THeives
Horror Character –
Action Movie–  Polar (Netflix)
Mind Blown–  Godzilla King of Monsters
Creature FX– Godzilla King of Monsters was most impressive!
Fight–  John Wick (oh which to chose)
Best double genre movie – Crazy Rich Asians
Family– The House with a Clock in its walls
SQUINK
(The avatar awards version of the Razzies)
Worst Picture
Death House   inherent Vice
TV/streaming show
Most disappointing – Deathhouse
Worst Actor
Worst Supporting
Director
Screenplay
Casting
FX
Overhyped
Screen Combo
Prequel 
remake
sequel –
or just seems a flat out rip off 
Movie Of the Year
Train to Busan  (Netflix)       Godzilla       Knives out
This IS a hard one. 3 Different types of movies and they are all great for different reasons. Maybe I'll do a split this year… as one I did catch on Netflix. The other 2 in the theater. Now I hae Godzilla King of Monsters in my library and plan to buy Knives out as well. So HOW the heck am I supposed to decide? Monsters, Mystery, cast,  and I think gave the same grade.  So with that I'll LET YOU vote on it 
Award your favorite Blogs!
NOMINATE your favorites and Show your favorite Blog and the blog world your appreciation…
*Send  a direct link of the blog and WHY you think the blog/author deserves an award
*You may also nominate a specific Post as well, either to the same blog or a different one. Again MUST have a direct link to the post, and this needs a detailed reason WHY you liked it (at least 5 sentences)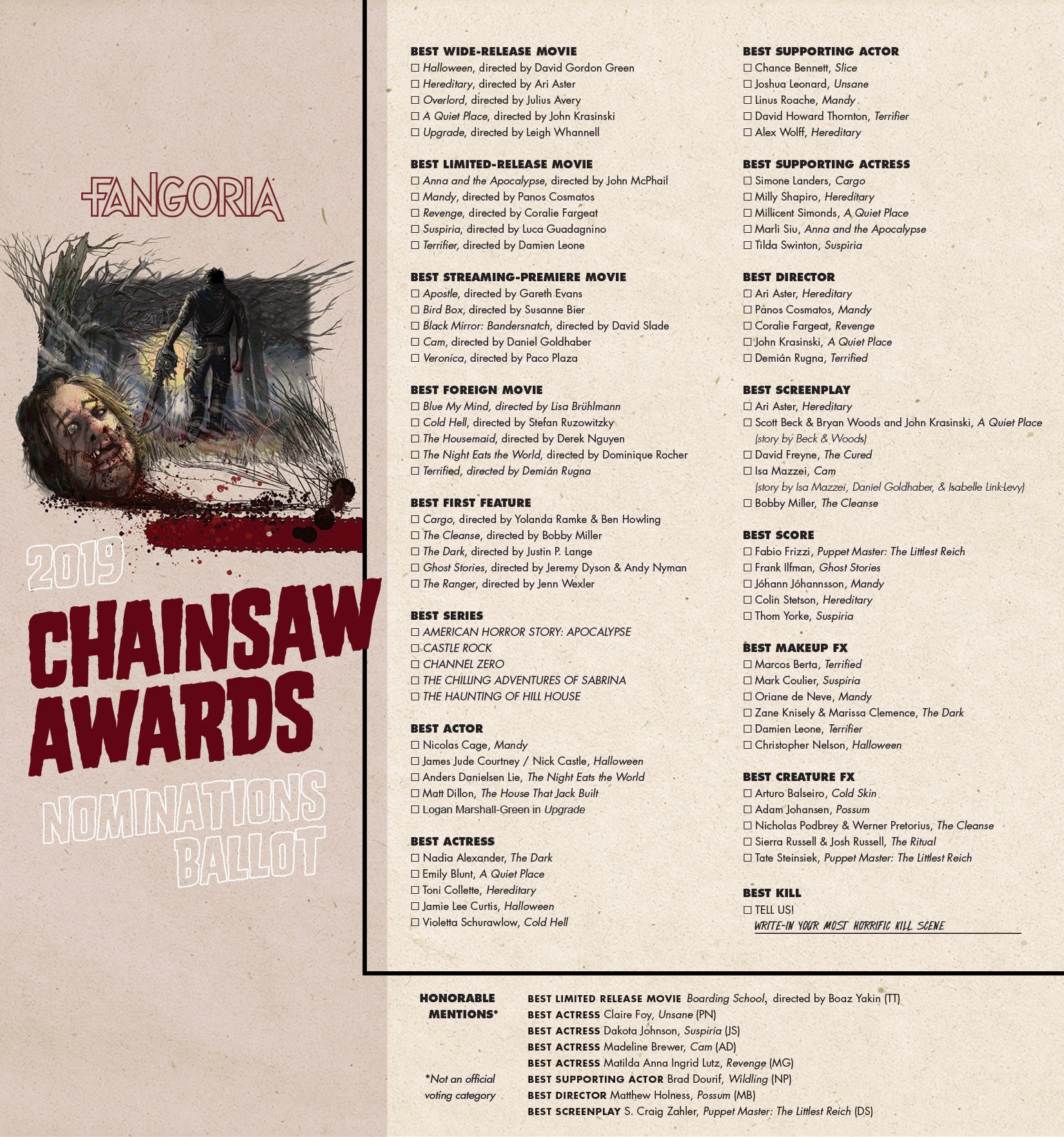 Award your favorite Blogs!
NOMINATE your favorites and Show your favorite Blog and the blog world your appreciation…
*Send  a direct link of the blog and WHY you think the blog/author deserves an award
*You may also nominate a specific Post as well, either to the same blog or a different one. Again MUST have a direct link to the post, and this needs a detailed reason WHY you liked it (at least 5 sentences)