I'd realized at the end of july maybe the beginning that its been a year or so since a new season was out. Last I had heard there were plans to do 2 stories a year.  I was wondering and willing for a new season so much I'd swear my shear force of will I made it happen. For some reason I thought after the Cult season that it was over, being as it's taken so long for it to come back. I had not heard of any news or renewal between then and in August when I found out the first week lof august. I think I saw it trending on twitter or maybe it was in my paper.li Paper. Either way happy to see an old 'friend' is back. (Especially after it seems most of my shows  were canceled, or is replacing my favorite character. (as long as Vikings is still around I won't have to kill anyone though I'll send them to Murder house if I need to; after all the Scorpio (espcially me) do hold grudges as well or better than the dead!
Jessica Lange is BAAA-ACK! as well as many of its other stars from the varying seasons, like Taissa Farmiga, Gabourey Sibide, Sarah Paulson, Lily Rabe, Emma Roberts, Billie Lourd, Leslie Grossman, Frances Conroy, Evan Peters, Kathy Bates, Joan Collins, Cheyenne Jackson, Billy Eichner and Adina Porter. and….Stevie Nicks.. Oh yeah and  we get to see them play some of their roles again.
They will be reprising their Roles: Constance Langdon (Murderhouse), Misty Day, Zoe Benson, Queenie, Cordelia Fox, Montgomery Madison, myrtle Snow (Coven)  while others like Billie Lourd and Leslie Grossman are playing new characters, and a few new additions  Cody Fern  will be playing the adult version of Tate's evil baby from "Murder House." He's not just evil, he's the Anti-Christ.
 Jeffrey Bowyer-Chapman and Kyle Allen appearing in a "guest" capacity.
In case you didn't see it in my curated news post Everything we Know about AHS: Apocalypse so far  there's more info as to what characters some of the stars will be playing. Lange is back as her Murderhouse character…looks like I will have to finish the first season before this one.
Apocalypse is supposed to connect Murder House and the Coven. This season sounds as though all the past characters from varying seasons will be mingling. Does that mean some of the stories from the past seasons will be continuing in this?
everything-you-need-know-about-coven-and-murder-house-prepare-yo/?cmpid=11-1002-102&sf197448452=1
Remember that Demon child from the first season? The one that was born of  Spirit and Living?
They did some AHS Revel8tion  on facebook sadly t was a BIG a waste of time. it seemed more like a fashion show than anything to promote the show. Maybe a few performance pieces but I give it an F.
Being as This season is titled Apocalypse… does that mean this is the end for the series? Or will there be one or 2 movie seasons? Maybe with a separate 'universe' then the first 7-8 seasons?
I re-watched seasons 1-3  a month or 2 before the new season as a refresher. (the 2nd season I only watched as I didn't see all of it when it originally aired, either i'd forget it was on,  didn't particularly care for it then, or I'd fall asleep while watching it. I'd say that season is better to binge at 2-3 episodes at a time. I still didn't care much for it, but didn't find it boring and slow this time.
So I came across a few images of the themes for each season (I have to find anything for the cult to add to this. However for Cult I can't choose just one theme. Fear, equality…
So around 7:30 pm the day AHS premiers we get Cast Promo pictures…
I love Joan Collins Dress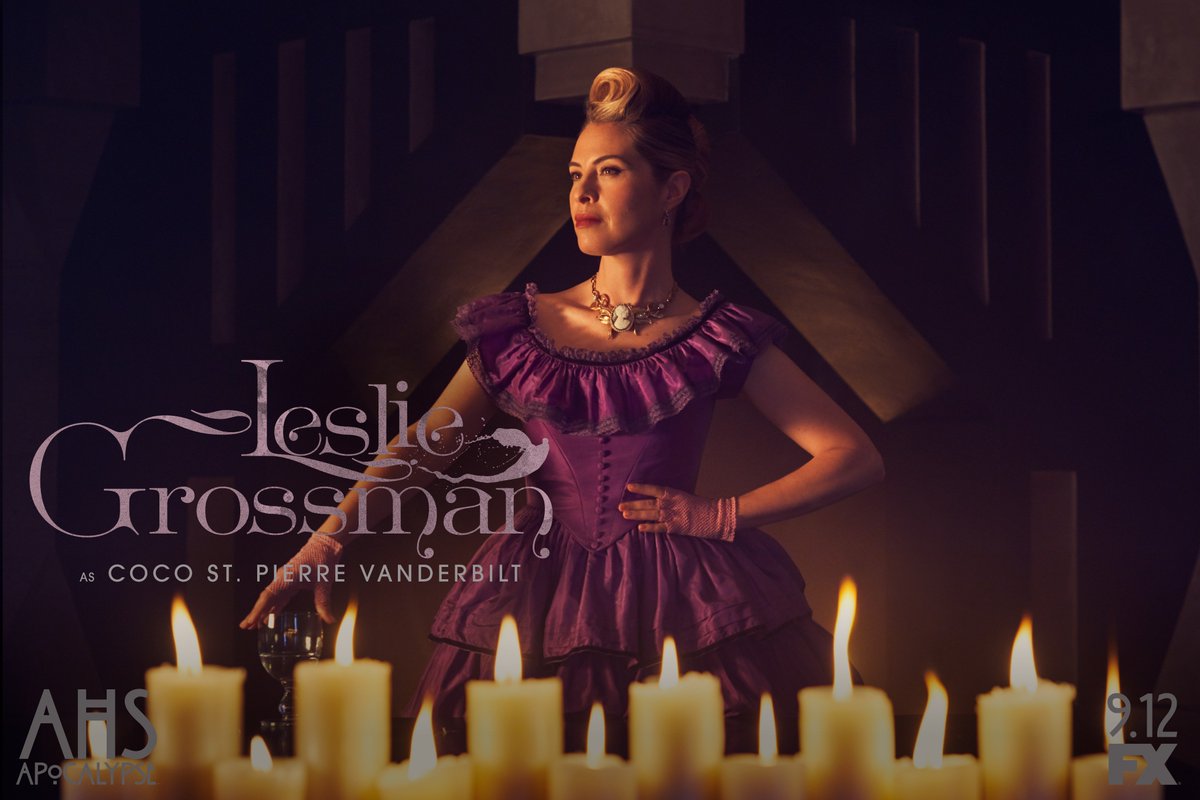 as for Cody fern who plays the Human Ghost child… Is it just me, or does he look like Lucious Malfoy to you too?
So the Cast Run Down is
Leslie Grossman as Coco St. Pierre Vanderbilt
Kyle Allen as Timothy Campbell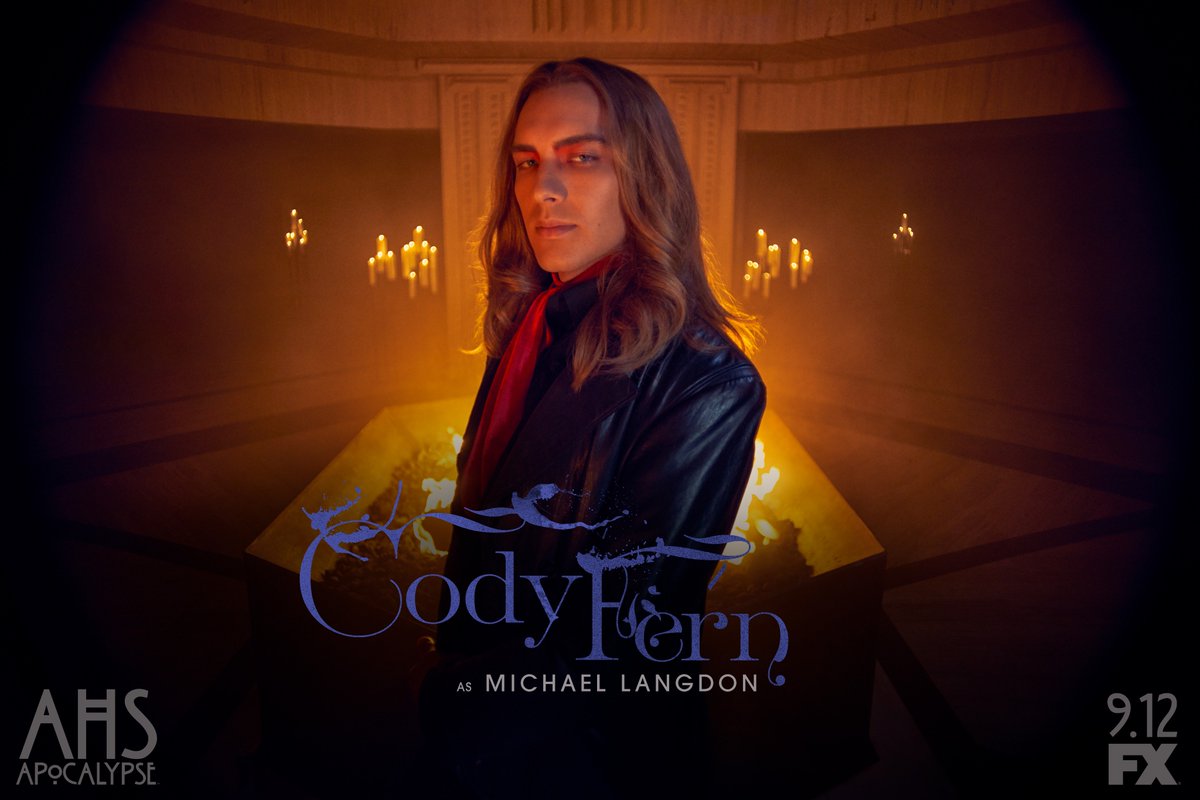 Kathy Bates as Miriam Mead
Joan Collins as Evie Gallant
Cody Fern as Michael Langdon
Billie Lourd as Mallory
Ashley Santos as Emily
Adina Porter as Dinah Stevens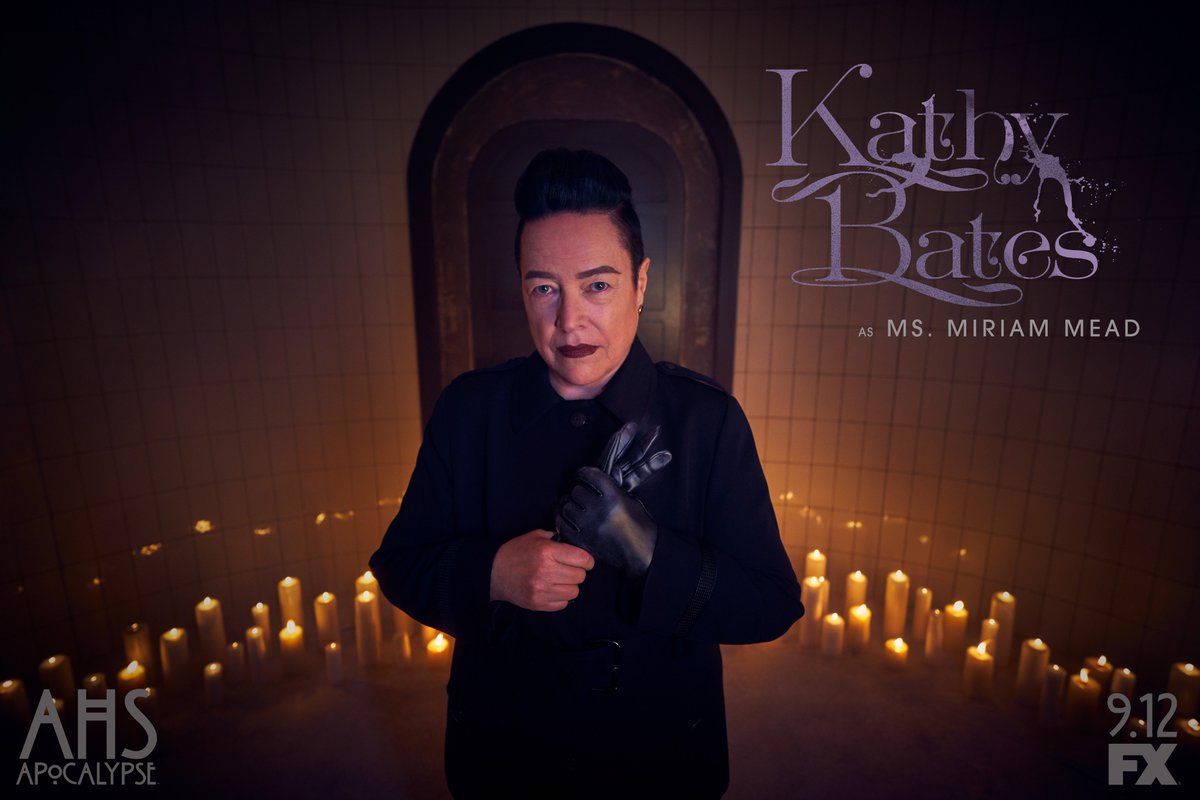 and doing double & triple duty
Evan Peters as Mr. Gallant AND Tate Langdon
Sarah Paulson as Wilhelmina Venable AND Cordelia Foxx AND Billie Dean Howard
One thing about AHS I like is they don't really ruin the season with Long trailers or too many also they like to deceive us.
I also like each year is a different story, that is not only various styles of horror but that there's a mystery, and always some sort of a twist .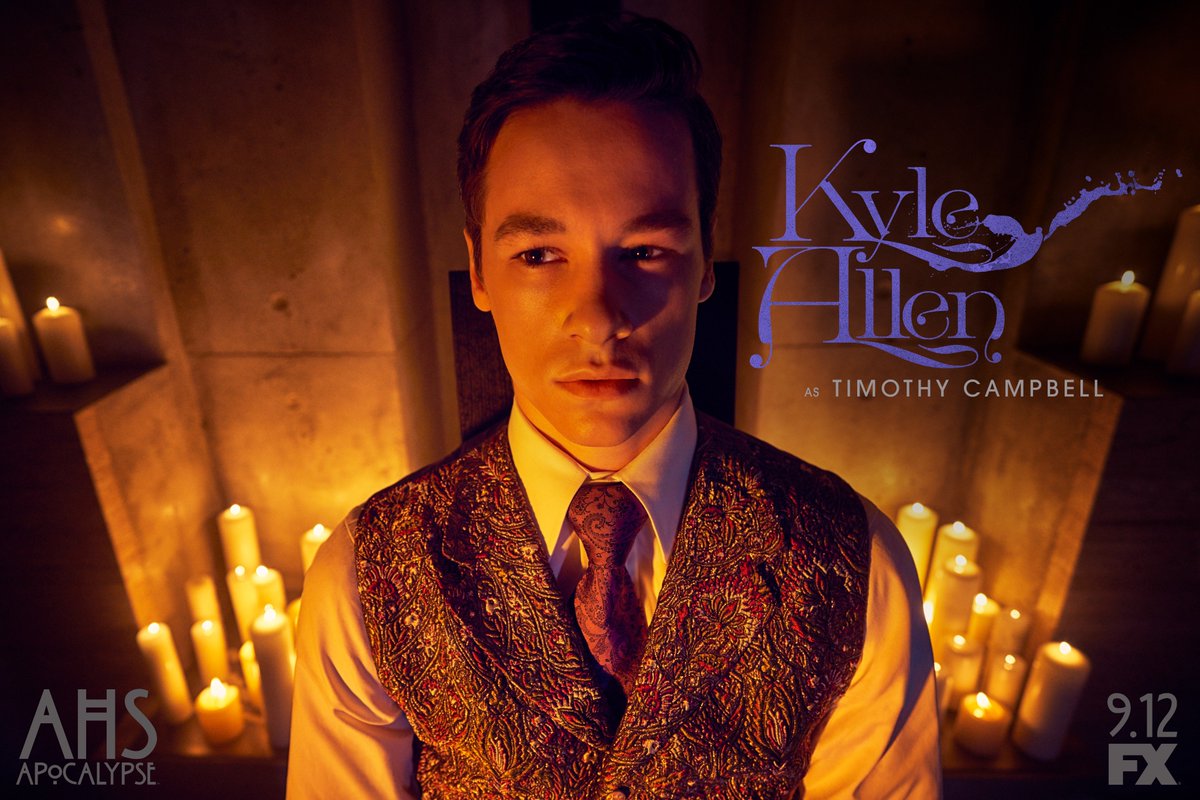 Select people go to or are just taken to an end of the world bunker. There'd 10 that are supposed to be equipped for permanent residence.
Sarah's character Wilhelmina Venable is the head of this outpost, "think of me as the face of the Collective."  I forget if there were `12 in the collective or 12 visionaries.
Purples = Elite  which get private rooms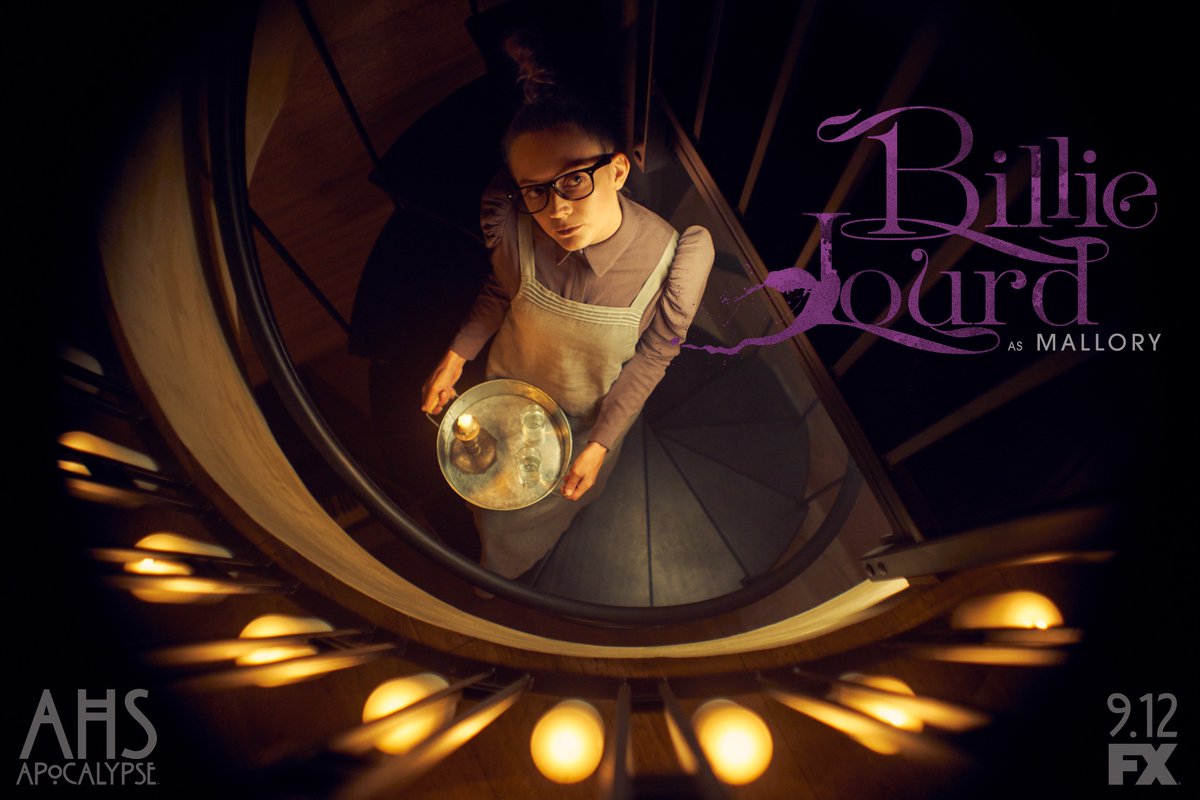 Grey= workers
Rules NEVER leave building  and NO UN-authorized Copulation
My question is, when one actor is playing 2 or even 3 characters do they get paid more?
If this goes the way past seasons have (or at least some) The first half we will likely see the inside of the doomsday shelter for awhile. I am thinking the Coven is the collective and how this fan theory plays out 'American Horror Story: Apocalypse' Theory Suggests the End of the World Will Be Undone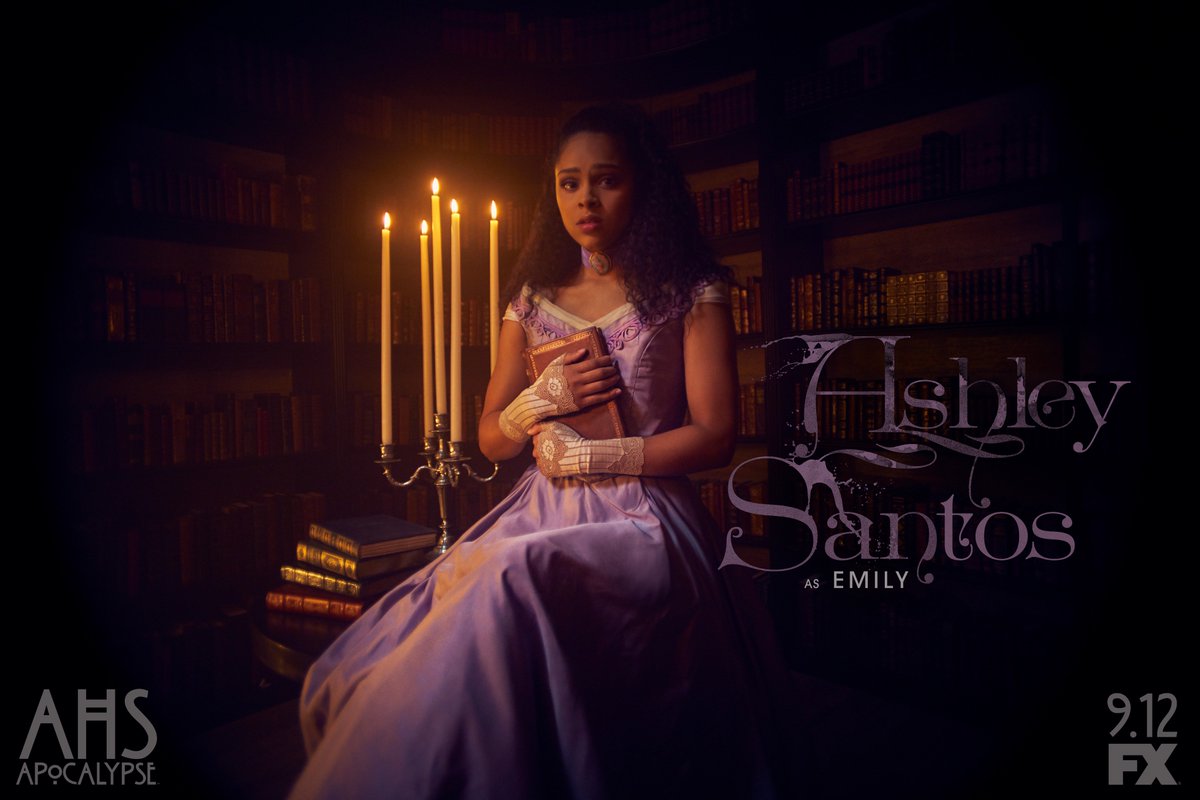 Coul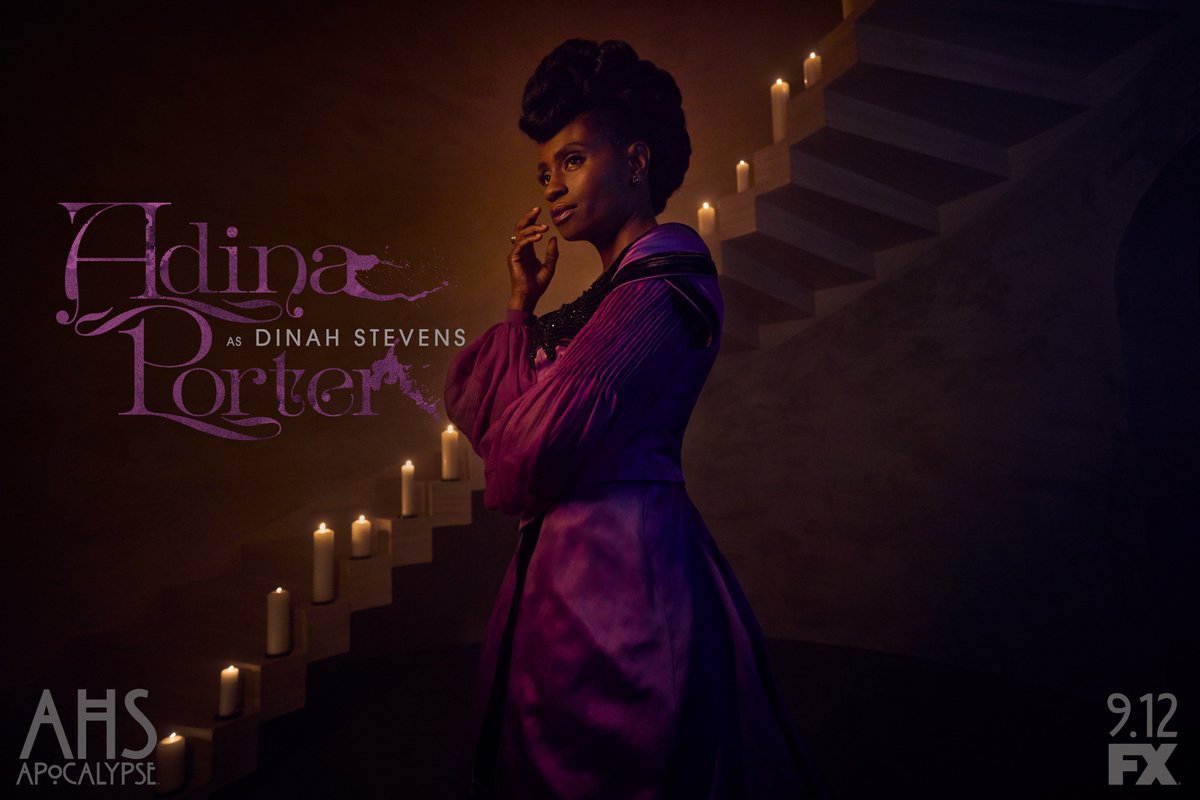 So its the end of the world as THEY know it… but is it really?
'American Horror Story: Apocalypse' Theory Suggests the End of the World Will Be Undone
So episode 3 'Forbidden Fruit' has a surprising reveal for one of the help, and what Michael Langdon is looking for to take to the sanctuary which Coco doesn't have. A Halloween party teaches to ALWAYS wait to drink or eat the food offered by your host until they have some themselves first. I do believe I may be right about the coven…
I have the feeling this will be one of the better seasons as far as plots and characters. My only question is, is Michael Langdon the part Ghost part Human child the only connection to Murder House (aside from a few returning characters)  or are there other connections  as well like  subplots linking the Murder House and Coven to the Apocalypse?
'Ahs: Apocalypse': The Biggest Questions We Have After That Bizarre Third Episode
Could It Be …SATAN
'American Horror Story: Apocalypse' Theory Suggests Not All Coven Members Are Witches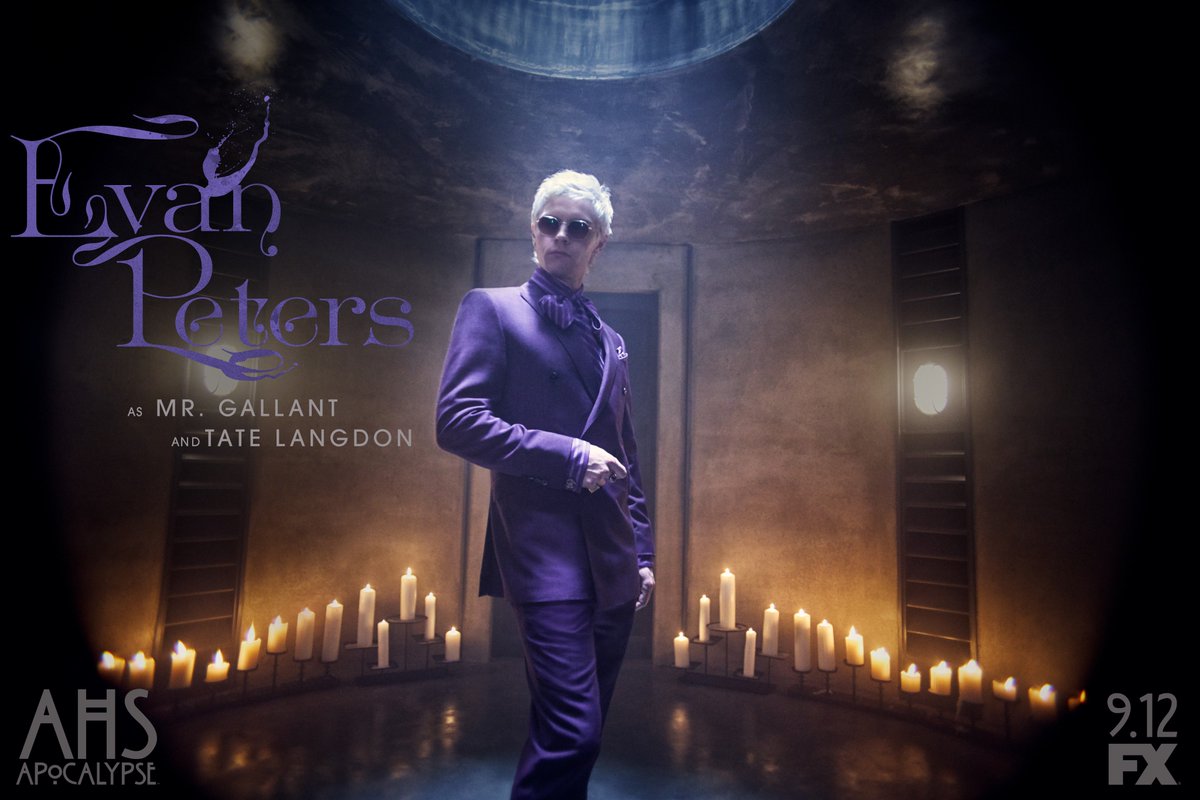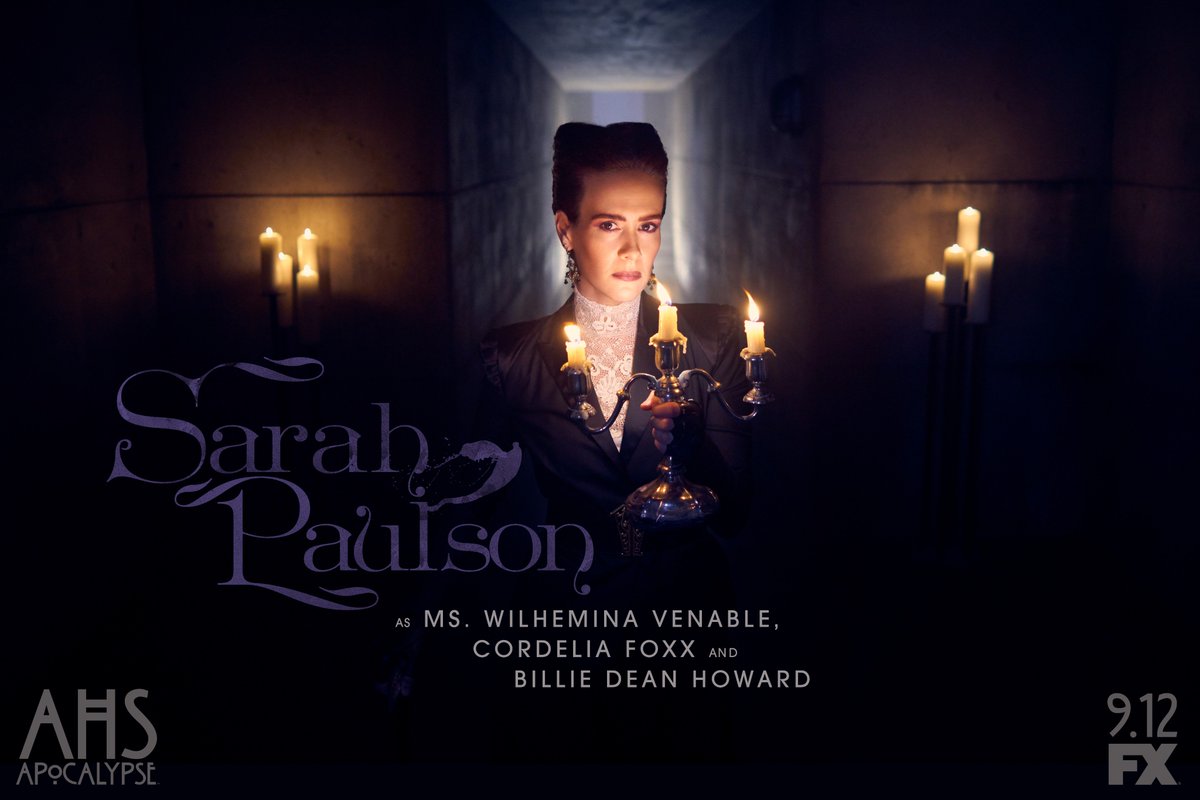 You can find reviews to the last few seasons below along with other fodder
American Horror Story- Murder House s1
American Horror Story season 6 – Roanoke
American Horror Story season 7: Cult
everything-you-need-know-about-coven-and-murder-house-prepare-yo/?cmpid=11-1002-102&sf197448452=1
If you liked this article or the blog itself why not the author your support?