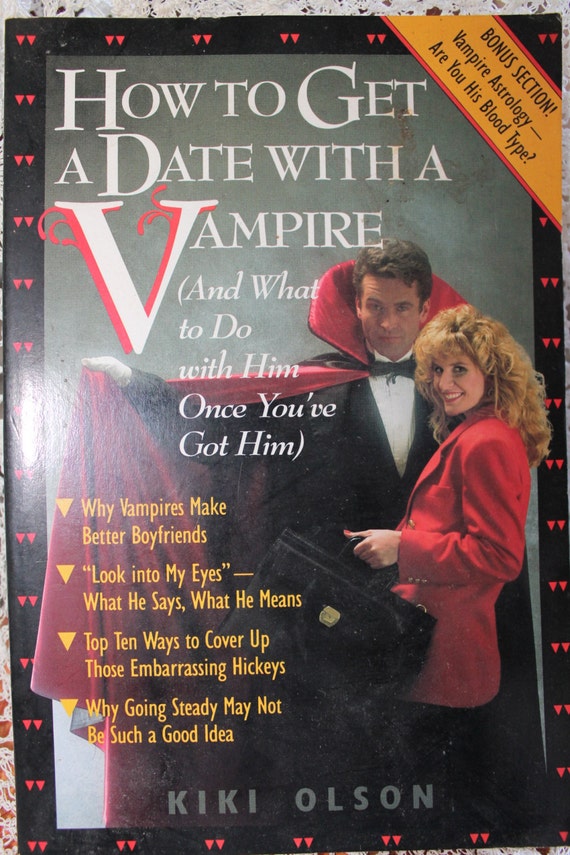 Paranormal Fiction humor
This came out when I was either in my last year of Junior High or my first year of high school. I would stare at it every time I went into Walden-books, hoping it would be on sale and I could afford it (on my allowance…do kids still get those?)
You can tell just by what the female cover model is wearing that it's from late 80s or early 90s, so now I have officially just put a date on myself.
So one day in my travels I came across a copy in the Goodwill store. You would think I found a buried treasure! I held onto the book like someone was gonna steal it from and and I'd have to fight for it!
"Vampires are everywhere, if you know where to look, and they are yours for the taking, if you know what to do"
The books tells you How to spot a vampire, Breaking the ice as well as their type and I don't mean blood type, How to meet the family and so on. Oh yeah and they seem to have this natural affinity for the damaged and fragile.
The writing had a nice flow except when the author had to put some broken French or Italian in there while mentioning some wine or something.. I enjoyed the book, but I think I would have more so when I was younger.
as I sort of mentioned the time it came out (the book says ©1990) it is a bit dated and I wish an update could be done with the way the dating scene is now. I read a couple of the GoodReads comments and no one seemed to get the humor, unless it was all those parts with the broken language. I see the humor part being it is a guide to dating  vampires. I know they were probably actually looking for jokes within the writing which I guess, like me, you just need to be a 'Vampire girl' to get the humor!  (as my friends sit stone faced in movie theaters during a vampire movie like Blade… and I'm the one laughing at the jokes and they have no clue why its funny!
(no I'm not saying I stalk the night in search of blood, I have just always gotten 'Vampire humor' you know like there's English humor or ironic humor and morbid humor…yep! I'm the one that laughs at the morbid, ironic Vampire humor! )
I had no expectations of the book which was good, I mean how good can this sort be, especially getting it decades after it was written? I will be saving it for another read in the future and putting it with my vampire book collection!(call me a Vampirologist!?!?)
I also would have appreciated her making up 'Vampire zodiac signs' as she phrased that the zodiac signs were different instead of just libra its 'the libra vampire) what she wrote for those…. (well I only read my scorpio one) sounds exactly like the real scorpio traits! Why not make something up (and be actually original) and make up some up like make up constellations or just use ones that aren't as popular :::checks out my planisphere) like Phoenix and Draco … woujld be PERFECT for  vampire a  zodiac signs!) mmm maybe that's an idea for something in my Vampire Bible  (you can find it on ZodiacImmortal.wordpress.com  There's a post but the PAGE in the menu is the one you really want!)