On the Fly
In 2013 I did 'The Year of the Book series' in hopes to read through & get rid of a significant amount of books on my shelf. I did it as a major challenge for myself. I could Only read what was part of a series, and I'd also have a time limit to read them  and so on.  I read 38 books (including the ones I cut short)  You can find the previous years' and  any future  Book Challenges under the Book Nook Tab.
 Disclaimer:  some links may be to Amazon for your convenience to read more about it and if you'd like to purchase as well.
I decided on the 31st of December that I will start my new year with Novel 4 of the Black Dagger Brotherhood, so I guess I better post the series page as well?
 List of abbreviations:
DNF= Did not Finish       
 Stikethrough = already Read
My 2015 reading Plan
(no specific Order)
#4 & 5th books of the Black Dagger Brotherhood 
Panther Prowling book #17 of the Otherworld series
1 Classic  = Anne of Green Gables  
A Pinch of Poison     
I Am Haunted; Living life through the dead  by Zak Bagans
Four to score  novel   Wicked Appetite  Janet Evanovich
Bad Moon Rising Sherrilyn Kenyon 
Hiss of Death Rita Mae Brown
Frankenstein  
Tales of Irish ghost stories
So To start
Lover Revealed
 started = January 1 2015 12 midnight
Finished = January 17
quickie review:  Butch gets abducted by Lessers,  May have Vampire blood somewhere in his line, lots of the romance part, and pretty funny.
The review will be posted on The Black Dagger Brotherhood Page itself.  You can also find it by  Hoovering on the Book Nook Tab and then the drop down menu will come out, and you will see the option for the Black Dagger Brotherhood page.  (There's lots of stuff on there, reviews, notes, facts, quotes, and even the actors that fans would want to play the characters, I've included my own as well. (though I am still coming up with more as I read the books, but mostly who to play the guys.
Interested? Lover Revealed (Black Dagger Brotherhood, Book 4)
  Dark World by  Zak Bagans
Started- January 18 – 26
I'm Re-reading the book as he has another coming out February 10th (see the upcoming 2 books)
While re-reading I have been thinking that this could have been organized a little better, though I'm not sure if 'organize' is quite right. It's a look back on previous lock-downs, somewhat a beginner's manual to being a paranormal researcher and some facts on Zak throughout. It is not this of what I mean about the organize part. The parts which he talks about the equipment I thought that maybe that should be talked about first then go into the apparitions, Orbs etc. I do still enjoy reading it, and love remembering the ones I've seen on the show. This is somewhat a behind the scenes as they take footage from a few days and edit it down to an hour so some of what they couldn't get on tv (or may not have been aloud) Zak talks about in here.
You can checkout My official Dark World Review (the first time I read it) & to  read about Zak  http://zodiacimmortal.hubpages.com/hub/zak-bagans
 Vocabulary
Temporoparietal junction
Double histogram – basically it's a bar chart
So Blizzard of 2015 has delayed me from getting  book #17 in Yasmine Galenorn series
So I am going to start reading
Get a Grip on Dreams
by Maeve Evans & Jennifer Parker  and is from Time Life Books
Started-January 27
Finished– February 2
pages 189
The Pages are weird, I'd swear they made the book out of paper bags, that's what it feels like to me but thicker. So a bit hard to open enough to read esp. if you are like me & hold the book open with one hand.
Get a Grip on Dreams
I like the way they have it, as it's written more like you are reading facts so you can read it while reading another book. Also there are varying views not just that of Freud's Or Jung etc. (Freud I swear is a Quack! He had a 'gutter' mind)  Some of what I have read has enlightened me to a few dreams I remember having in the past, but sadly doesn't explain all of it for instance like the one you are late or totally miss an exam (I have been out of school for years… but have had a few dreams that I have not had a chance to, Purposely put off studding or just miss the test altogether  So what the heck would this mean for me?)
So as the cover looks, the inside is illustrated the same way, sort of like a graphic novel I guess I could say. They also include 'Themes' the dreams of which we all have at one time or another and that people have been having since we at least could record and study them.  A Nice 'Read between commercials' book.
I am about 2 days behind in my reading I think it's like 30 or more pages to go in this book
I thought I would have started my review for panther Prowling by now.. Let's hope sometime tonight (Friday the 6th)
Panther Prowling
Urban Fantasy Paranormal romance
started February 8 – 22
 (306 for Panther Prowling & a few for the preview Bio & the 2 'ads' for the previous otherworld series & Indigo Court series novels.)
We're the D'Artigo sisters: savvy half-human, half-Fae operatives for the Otherworld Intelligence Agency. My sister Camille is a wicked-good witch with three gorgeous husbands. Menolly is a vampire married to a werepuma. And me? I'm Delilah, a two-faced werecat and a Death Maiden.
    The Wayfarer is ready for its Grand Re-opening after burning down a book or 2 previous, and Delilah has re-named her PI agency to the 'Cat's Eye Investigations firm'. Her first client under the new name is cousin Daniel (in which the girls recently learned of) who has procured a valuable rare sword but has  some ghostly hitchhikers attached to it. They protect the soul of a King from times past that's locked within and is about to break free to recover his crown. Ooh Vikings! I will have to go thank Yasmine for that! As usual, never a dull moment in the lives of the sisters & their very Extended family. Some nasty creature attacks their home, and a necormancer is trying to free Said King from the Sword.
Vocab-
Fugue – 1. a contrapual composition in which a short melody or phase is introduced
              2. a state or period of loss of one's identity
memoir
Started February 23- March 7
out February 10 (already have ordered & paid for my copy!) I picked it up the day after it came out and being they still had them treated myself to the Barnes & Nobles Best Book Bag Tote  that I've been eyeing for YEARS!!!
So Upon just skimming through the pages on the way home, I see it's somewhat like the previous. It looks like he will be covering some more lock-downs from the show, however I didn't do a full check out o it like the chapter titles etc.
Read More :book-bind-zak-bagans-i-am-haunted-preview-review/
Wait what's up with the Green covers?!
(Is that gong to be a cover trend of 2015? we'll have to keep watch won't we?)
  Awaiting the Night
 https://www.goodreads.com/book/show/1293429.Awaiting_the_Night
Started I think March 8th   DNF= March 23
order via Amazon here–> Awaiting the Night (Awaiting Werewolf, Book 2)
Seriously Frustrated with this one.  am still working on it. I should be at least 100 pages in but sadly I've been slow to get into. It's now the 20th and should be done with it (even if I did miss 2-3 days of reading)
Well I do have my rule of reading the first 100 pages or first 10 chapters (whichever comes first) so this is apparently a waste of MY time. Its noted as Historical Paranormal Romance but I can't find what is historical about it. (I don't recall seeing any years etc at least not yet anyway)
Melisande Davidovich is staying at Wolfram castle  Christoph Von Wolfram is going through a form of male PMS or more like PWS (Pre-Wolf Syndrome) Charlotte, Christoh's sister seems for the moment a background character.
Melisande's father is staying here as well after being attacked by Russian's. Then 2 russisian travelers come back Count Gavril Roschkov and Count Kasimir Vasilov. One of these 2 says he's a friend of Count Von Wolfram who is currently away; while the other is I'm guessing there to do something to Meli's father who was accused by the russians of stealing something.
It's the 23th & I haven't even reached the 100th page, so right now I'm saying Screw the rule (esp. being as chapter 10 ends on page 100, anyway so I ended up falling asleep while watching something & reading this so I believe it's time to cut the chord (er page ?) and start on the next book, probably something Janet Evanovich as those seem to go fast have catching up to do)
Vocabulary –
efficacious
Contretemps- Unexpected and unfortunate occurrence
obstreperous- Noisy and difficult to control
gauchirie -awkward or embarassing ways
Four to Score by Janet Evanovich
started March 24 -April 4
Four to Score (Stephanie Plum, No. 4) (Stephanie Plum Novels)
Stephanie gets another bail jumper and has to track down a waitress who doesn't want to be found, and who has sent her Ex on a scavenger hunt of sorts.Her arch-rival Joyce is on the tail of of her and the case. She's also being accused of stealing someone's boyfriend, which doesn't end there as the accuser takes justice for lack of a better term into their own hands taking it out on Stephanie's personal (and even some Public) Property.
four-to-score-partial-review-wicked-charms-chapters-1-and-2 tide you over 
If you want to see more please see my whos-stephanie-plum page for the full review. (after the weekend)
The Wiccan Rede
The Wiccan Rede: Couplets of the Law, Teachings, and Enchantments
Started- April 4 -May 23
This exlains the the meaning of the couplets to the Wiccan rede to better understand the rules
 https://www.goodreads.com/The_Wiccan_Rede
Started April 5th -13
The first book (I believe) of the Lizzy and Diesel series and a 3rd dubbed Wicked Charms will be out (if it hasn't already been released) Find more on my Stephanie Plum/ page which will have all notes and full review.
So far I'm digging this, and I at least don't have a load of books in the series to catch up on. There's a new one coming out this summer and it's ony the 3rd!)  It's funny but not sure if it's funny like the Stephanie Plum books! Those are like Lucielle  Ball scheme & sitcom funny.  Glo is the character you shake your head and laugh at, Lizzy & Deisel are in a way like Stephanie & .. maybe Ranger if one needs a basis.  Diesel is cosmically connected to Lizzy,and can read her mind becaue of it… or so he tells her . She is an unmentionable which means she's able to find mystic objects, by touching them. When she does they seem to vibrate &  get warm.  Some weird collections due to a mystical inheritance, a finger flipping monkey named Carl which can be quite amusing, and I would love to see the following part in a film….Olive oil skating ferrets too~!
A nice flow to the writing.  never a dull moment with these two Flirting (and with danger as well) a scavanger hunt err treasure hunt is really what I should say Bakery disasters and spells gone wrong (if they did at all)
Hiss of Death
by Rita Mae Brown & Sneaky Pie Brown
Mystery/crime
Started – April 15- 25
A friend of Harry's community dies, from what seems like a natural cause (or at least what she's deathly allergic too) but Harry has a fishy feeling about it.  There's also Harry's health to consider, diagnosed with stage 1 breast cancer, she has to undergo radiation and decides to goto the gym . All the evidence seems to point to someone from a support group or the hospital. There's also a part that may make you think twice about buying a hybrid car.
A true mystery to the end, I didn't figure out whoit was (but not sure if I was trying to either)
if you don't read it for the mystery, read it if you love animals. The character's pets 'talk'! (well amoung themselves & to the other animals, but they are the fun of reading the book. Pewter is a bit of a curmugeon, Mrs. Murphy is a level headed ginger tabby, and Corgi Tucker well Pewter would tell you she's a bubble butt. I say she's quite smart, if only these pets could truely talk, they'd solve the mysteries on their own! Also they save the day!
pg. 79 with 'Harry' reconizing Pewter (the silver tabby) getting ready to be a bad kitty, to taunt Mrs. Murphy & Tucker.
"She'd be asleep wake up shoot straight up int he air and race around the house then pounce on tucker.The dog suffering endless abuse from her, who would wrap jer front legs around the corgi to wrestle herto the ground. THey'd growl but it was usually play. Tucker growling and flop down as though the cat really threw her. Mrs. Murphy normaly watched but but on the occassion joined in though with her pewter for effect for unleash the claws
Quotes:
"You and a Porche have one thing in common, 60% of you weight is in your rear"- Mrs. Murphy to Pewter
Annalise : two wrongs don't make a right
Cory: no. but 3 lefts take you back to the freeway
 words of wisdom:
Happiness is simple: Someone to love, something to do, something to look forward toanimals to love and a place to love
Menace under Marswood
by Steraling E. Lanier
Sci-fi
started= April 26 – June 25
Takes place in 23rd century  which has been Terraformed for humans, it's called the 'Teef'  for erraform, and even more commenly known as The Ruck  as well as 'The  most  dangerous  duty in the solar System and where 'a man's best friend is his side-arm' .
Their fort sits on an artificial mound, where nothing grows for 2 hundred yards around the walls except  the mutated grass and eindeer moss clipped to 6 inches in height.  Nothing can approach without being seen as the walls are partolled 24/7 night & day  by sentries useing every sensry device the UN labs could turn out.
Characters: Sr. Lt. Slater (& his tiny turtle Grabbit) , Lt. Helge Nakamura, Col.  Muller Danna  Konsel Thau Lang  JayBee Pelham
Honestly I'm a bit mixed up as parts I got distracted in while reading. Some sort of group of the natives are causing trouble so the Leader of them and some humans aka Greenies by the native folk are heading out to nip it in the bud. I've lost track of what their mission is supposed to be out in the Ruck (from Hindi for Forest) as it's called.
This ended up being a menace! it was a chore to read and got relegated to bathroom and waiting room fodder! This would have been better written as a movie script or mini series I think, not a book to read. It shouldn't take me 2 months to read a book that is 213-15 pages long! The last few pages better thrill me otherwise it's getting an F
 Scouting for the Reaper

by Jacob M Appel
Started May 24 – June 9
I received a complimentary copy from the Goodreads author as I kept submitting to the giveaway for a copy. Just because it's complimentary doesn't mean it will get by without a fair honest review, frankly I think when I receive something in this manner, I am a bit more critical than I normally would be. However I will likely not grade this other than making note of what I liked and did not.
I would think the title 'Scouting for the reaper' would be exactly what it sounds like at least before reading the first story. After Reading the First story   "Choose  Your own Genetics" which was interesting with it's look into genetics and bringing back memories of High school my Sophomore year, with the experiment they did to check what their blood type was, which was one of my few favorite memories  from High school.  There is one part I did not care for which is the cliche of the girl with a crush thinking if she could get preggers with the boy she likes it would help her snare him. Then she admits she's not the type but as smart as  'Louise Natalie Limburg' is; she's still just as much an idiot for thinking that way as the 'gutsy free-spirited, willing' girls who DO take that risk.
The 2nd story called  Creve Coeur is about local celebrity , the love that got away or as far as  I take from it.  The Obsession and resentment that goes along with crushes and how our 'love' for them  'kills' us. Not really sure how I feel about this story, as I don't know if I'll remember much if any of it like I know I will the previous  (but then  in ways it's a personal memory, so that's likely the reason and maybe a slightly biased one as well that I'll remember it.)
The 3rd story Scouting For the Reaper    I was surprised to see a mention of my city and the close by Scarsdale mentioned as well.  I'm wondering if this was the reason that the author offered me the book! as for the monument shop, I wonder if it's the one I'm thinking of (if it's a real place) down the hill from Sprain Ridge pool. This is somewhat the same story as the previous as there's a Natalie, Instead of a Sheila change around the letters and add a couple of new ones and you have Delia. Instead of the husband seeing an old friend, it's his ex-wife who wants to buy a tombstone off him as she is dying.   I liked this better than the last one but then again you are talking to a person who wanted to work at a funeral home just for the prank she thought she could pull on someone! (Yes I have a morbid sense of humor)   next up is
Ad Valorem  which I need to see if I can find a translation of that, as I think it's Latin, though it sounds familiar. I'm thinking something having to do with money?  An accountant's deceased client's widow gets involved but is also suspicious of the accountant.
Rods & Cones  – I'm not sure what I think of this one but it's a happy ending. I guess as a pet owner and animal lover I can understand, but this lady is having a serious episode of empty nest syndrome.
The Extinction of Fairy Tales– was able to read this in full on a saturday night. While she is younger (i think in the 1960s or 70s) Edith purchases a home  and the previous owner's landscaper, offers his services. He's good worker and never takes off so when he does not show, Edith has a very hard time with it even refusing to let anyone else cut the lawn. It's an emotional story in which in a couple parts I wanted to enter  the book and have some choice words with her neighbors who are badgering her. Sadness in ways of stubborness is how you meet your end and a lesson of do today instead of putting off til tomorrow. This was another favorite.  Only 2 more stories to go
Hazardous Cargoes – a truck driver with live cargo is going to Orlando with Gentoo Penguins, Iguanas,and somethings called Linsangs and New Zealand Tuataras WTF are they you ask? I asked myself the same though for some reason I have a feeling I should know what at least one of them are (well my cousin lives in NZ so that would be the one more logical to know already plus  I do watch those animal shows so…let's give a 'net search…) Aw the Linsang is so cute!! I want one! as for the lizard.. well looks the same as an iguana to me. Well they said one of them was supposed to look like a Civet and I'm guessing that is why I thought I should know what one of them were. Anyway… The truck drive finds a stow away and is OC about his inventory on the truck. He always makes sure he has no more or less than he's supposed to (hey try explaining to boarder patrols etc) It felt like a quick read  and oooh I hate even when in books an animal is harmed. There's a giveaway in the book you know what is going to happen before it does (I hate that but it was done in a good way)
The Vermin Episode – I'll just say the vermin son as no idea how or why but some characters son has become a giant bug! They are trying to get him buried. The family is Jewish and Catholic in belief and the church won't bury him cause apparently he made a sin so bad it turned him into vermin!
I would Definitely recommend. I think each story has it's own style and voice as well as maybe genre. A little 'romance' sci-fi horror and maybe even what to me sounds like it could have been a true story or 2!
Bad Moon Rising ~Were Hunter series #4
Find a Preview on Goodreads, look under the image and rating
Series wiki Slang, Families etc
Started: June 10th -july 2
My first impression  is it's a werewolf version of the Black Dagger Brotherhood, or at least as far as some of the names like Fang, Fury and Vane (so far) They're all part of the Katalakis Grand Regis Lykos …Katagaria  clan. They are normally seen by bears as being violent, filthy and arrogant to the extreme. Though there are so far 2 or 3 different packs about.
Strati – Katagaria warriorors who are the fiercest of the bunch and usually quick to anger
Slayers- indiscriminate killers to any one or thing that gets in their way
Arcadians- applied to any Katagari  soldiers as a justification why they need killing.
Dark Hunters- are immortal  warriors who fought for artemis and hunt down the were Hunters cousins the Apollites and kill them whenever  they turn daimon and start praying on human souls to live.
Whoa.. mama bear is 800 years old but only looks 40! WTF!
A variety of were-animals  that were cursed by the ancients. So one of the cursed (a king?) took it upon themselves to experiment so their children would not die (I forget what reason they were cursed in the first place.) What became of those experiments, 'would have the heart of an animal  who lived as animal by light of day and  who held the hearts of a human by day' (does that make sense to you, cause I originally had to re-read that a few times thinking it a typo or missed by the editor. from the Mother's Apollite race they inherited magic and psychic abilities, from their fathers work they would live by day as their base form human or animal and night they'd switch.  Under the full moon their powers were strongest. Now they are immune from the curse Apollo put upon them. The gods not pleased wanted the King to kill the lot of them but would not let his children suffer so spared from the original curse, a new one was cast aout them that they'd not be able to choose a mate of their own free will (only the fates could) and there would never be peace between the Katigaria (animals) and the Arcadian Humans; and this is how the were-hunters came to be.
For me there were too many species and 'classes' and because of this some parts were confusing for me. The last 75- to 100 pages could have been better or just edited out as most of the book is the species crossed lovers  who should not be together and would likely be cast out because of their feelings for one another just. Most of it is just whining "oh we can't we have to stay away from each other our families wouldn't be happy blah blah blah. That gets annoying. after 3x it becomes old and o me means you have no idea what you are doing. You do not create more drama  that way.  Its sounds more like an annoying broken record or a lazy song writer that has to repeat one lyric 10 times because they have nothing better to say. Some parts are just too cornball cheesy for me in it and there are ways to write romance without that.
frankly I'll stick to my Black Dagger Brotherhood and Yasmine Galenorn Otherworld series books.
Quotes:
Dev.: you know for a wolf you don't really stink
Fang: ::snorting:: and for a bear you don't chafe my ass
"Vane was being as moody as a teen Gemini on her period after he'd seen some human he was now pining for"
by Lily Luchesi
(Paranormal Detectives #1)
started July 4 –
New adults or Upper YA   Mystery/Thriller/Supernatural
Chicago P.D. Detective 1st grade Daniel Mancini is on assignment  to follow a suspect in a homicide besides suspected of murdering two women the past couple of weeks. What happens during this case will change his life.
I'm only in the 2nd chapter and thinking I'm going to want to buy the actual print book (I received a PDF  complimentary from the Author to review) and re-read it. No Idea what page it was on but a pop-cult reference to the CW tv  channel and a mention of the Show supernatural gave me a laugh and that smirk Dean makes. Also like Lily's (the author ) take on how vampires started.
a Supernatural thriller that has good flow; and its perfect type of book for a day at the beach, at a little over 100 pages.
I can see myself looking forward to the next in the series. I'll have to ask the author if there's any estimated time frame for that. The editor missed a few mistakes. There's just the right amount of action, just when there should be one it's there. There's no monotonous feeling to the reading, or narration like some other books I've read. After reading this I feel like the last 2 I read were in that fashion!
As I may have previously mentioned on previous notes I do enjoy the pop-culture references in here. Good job for a first novella, I am hoping to find out more about the witch.
I was surprised that the main antagonist may not get a longer story arch tho' the witch one might be more interesting anyway.
P.s. I received this book complimentary from the author as I offered to read and review it for her. Thank You Lily! For the breath of fresh reading..
Order Stake-Out (Paranormal Detectives Series Book
A Pinch of Poison
by Claudia Bishop
started july 13 -august 6
Have not really been able to read much since I am my aunt's. For some reason I only seem to get to reading  a page or 2 (if I'm lucky 5) a day for some reason, I'm thinking this is because of the Cat-ertainment.  So now I'm home, I'm finally getting caught up and on track.
Hemlock falls sounds like a quaint little town and I like the name of the place! (After all hemlock is a deadly tree!So that right there tells ya about the town or at least series.) So reading through so far there's work going on at the Inn, some mini mall plan going on and the sound of something crooked going on with it. Then there's the new guy (still trying to keep up with all the characters names) who runs a 'rag mag' which at first I thought was going to be the mystery …wrong. Around page 60 the mystery or what starts it is finally found!
Was a good read however the reveal wasn't even climatic (or remotely surprising) even though I didn't even suspect the person! Stoker you'd think is more trying to sabotage the Inn than help
This also has a recipe included for Crab Clouds in the back.
Notes & Quotes
Quill " Maybe some muscle bound cretin  or sleeveless t-shirt came clouching  through the front  door  with a cigarette hanging from his lower lip and sweat rolling off his biceps  and seduced her away"
Meg " What?"
Quill;  "Nothing. It's just Hot. It's august and I feel…Witchy"
Disapprobation- strong Disapproval usually on moral grounds
Gladstone Bag – Here's a link for Vintage ones 
Semaphore- System of signalling with the arms or 2 flags (like  they do for planes)
Order A Pinch of Poison via Amazon
*   find more info on Goodreads
Anne of Green Gables

Started August 6th -August 22
this starts off with the residents of Green Gables adopting a boy, but get Anne. There's Mrs. Rachel who needs a life!" She is a no good nosey body who is a judgemental snob of a woman. Hurts Anne's feelings; Anne stands up for herself and gets sent to her room for it.
Looking at my cover I swear she was the inspiration for Pippy Longstockings!
On page 17 (at least in my copy) I love the description of 'The Avenue'
Anne is Born in March and is 11  Here father was a High school teacher named Walter Shirley, her mother Bertha was also a teacher before she married. She gave u teaching as she thought taking care of a husband was a full time job.
The mother Died of Fever when Anne was only 3 months old and the father followed 4 days after.
My Life is a perfect graveyard of buried hopes- Anne
Man I thought I had an imagination! Anne may be on par or way beyond mine. But damn I swear when I read her parts I hear a hyper, perky high voice and she annoys me. Though not sure if as much as the dull ass adults!
It's been over a year now that Anne has been living at Green Gables. Her Imagination has run away with her, and oh I like that idea… a Rainbow being a dryad's scarf.
Man I thought I had an imagination! Anne may be on par or way beyond mine. But damn I swear when I read her parts I hear a hyper, perky high voice and she annoys me. Though not sure if as much as the dull ass adults!
Oh Help me.. Ann of Green Gables (well the character) is annoyingly perky at least as a child and though still cheerful and imaginative enough as an adult she's less obnoxious. Of course with her hopes, ambitions, and many accolades she is riding high in the book until a disruptive moment of life bursts the bubble on her perfect world. C+
Mia's Tempest
Started: August 24
Pages  a bit over 100
Horror
Something is happening in the nature world, it's the season nature fights back the pollen is extremely high. It's so severe that people that don't even have allergies are fatally breaking out or not able to breathe. Instead of them happening instantaneously, it seems to happen one after the other.  Ugh oh,  now my eye itches (and I kid you not on my part)…is what you 'hear' from one character.  It's an allergy 'plague'!
What is interesting about the book is that the main character is not a person, but but 'mother nature'. The  storm  of weather plagues is the main character, reaping havoc and chaos across the globe with various severe or maybe extreme (would explain it better) weather disasters.
The narrative story has a good flow which makes it a fast read. There's not many characters in the stories but for those that are don't have the time to have their stories developed more.  As I am one with seasonal allergies (thank goodness the foods I'm supposedly allergic to I can eat or I would have died of starvation long ago'!)  the first chapter can get you a bit paranoid.
Read the Full review here I received this book via the author as a PDF at my request to review
The Secrets of Blood & Bone 
by Rebecca Alexander
Started = August 27   –  September 27
a supernatural thriller (mystery?) with history, Magic and Sorcery
384 pages in a 5-3/16 x 8 binding
I will say there are lots of  magic and supernatural elements. I saw a page in back there is a character that actually lived but there are some bits of history that she took
liberties with (not that would matter to me as far as the character in question would go)
Auguries–    a sign of what will happen in the future; an omen:   (Oxford English Dictionary) "they heard the sound as an augury of death"
Sitting Cup Shot
Volkodlak – (were) wolf
Quillions
schiavona
Lord Saraquel= One of the 7 archangels
A full review can be found here once I've finished       D
"I received this book from Blogging for Books for this review."
Frankenstein – Mary Shelley
September 28  – October 25     DNF
Not counting the preface & introduction which I did not read, there is a few letters before the first chapter even happens. While reading this I could only think wtf is going on. Not sure if it's part of the original story or not but really are not needed when you read (unless of course its an assignment in class)plus reading them would give me a small headache and makes me fall asleepso just skip right to chapter
Not sure if I mentioned previous… but this would be a great remedy for insomnia
The writing to me just seems to drone on
I Give Up! (Halfway through) Can't take the babble and old manner of speaking. Maybe I'll end up reading it only when in car or in it'll become bathroom fodder (means NOT worth any other time) Or maybe read before bed. (on page 71 of 209)
True Irish Ghost Stories
sept 29
here's a little funny for ya…
While reading a single knock wrapped on my door. I answered, and didn't get a reply. Got the creeps, then after a time I hear someone leave the bathroom! I even used my little battery powered 'hurricane' lamp when I left my room. Had to laugh at myself.
some creepy happenings, but i think would be more spooky if they had the tales on Paranormal Witness.
I thought this would be more set up as if they were short stories, not just a section by Haunted houses, Poltergeists, before or after death sightings etc.This was easier to read though have to keep in mind the stories are old. Like early 1900s and before that. There's a variety of stories, haunted houses, those that may or not be actual ghosts, and a variety of other manner of the supernatural 'spirit' types"
If you want to read my ghostly experience Check out my 13 Frights of Halloween it's under Day 5
Doctor Who: The Drosten's Curse 
Start: October 26 – November 28th
Starting out I'm a little confused as to what is going on. I think this is supposed to be the Doctor with the long scarf.  There's something in a golf course I think in the sand trap and a character named putter (after the golf club?)
You can read the full review here  (it will be published Friday dec 4th)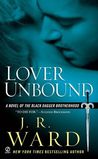 Lover Unbound
J.R. Ward   Black Dagger Brotherhood book #5  on Vishous
December 1 – Dec 30
So learning quite a bit not only about Vishous in this but a bit about Darius as well. Poor John Matthew is the late bloomer in his class of trainees, vampire puberty is a ** Not only did Z go through some major crap in life being abducted but V has one jackass (putting it nicely, &  G-Pg-13 rated) of a father and his mother well… I won't spoil who he finds her out to be.  I think besides Rhage & Rhevenge  I think V is likely to be the 3rd fave tied with Butch of course for their sarcasm and wit. as for Rhage & Rev… well  Not sure if I should choose the dragon over that gorgeous model on the cover of Revs (who has purple eyes) I might have to say Rev as I think that was the first hardcover I bought & 2nd book to read.  These book have a nice flow and I do enjoy the story telling but Feminists beware.