WARNING… There may or may not be language in here offensive to others so if it offends you, and continue you've been warned and have NO  right to cause a problem!
Deadpool (2016)
R   108 min  –  Action  |  Adventure  |  Sci-Fi  |  Thriller
A former Special Forces operative turned mercenary is subjected to a rogue experiment that leaves him with accelerated healing powers, adopting the alter ego Deadpool.
Director(s): Tim Miller
Star(s): Ryan Reynolds, Morena Baccarin, T.J. Miller and Ed Skrein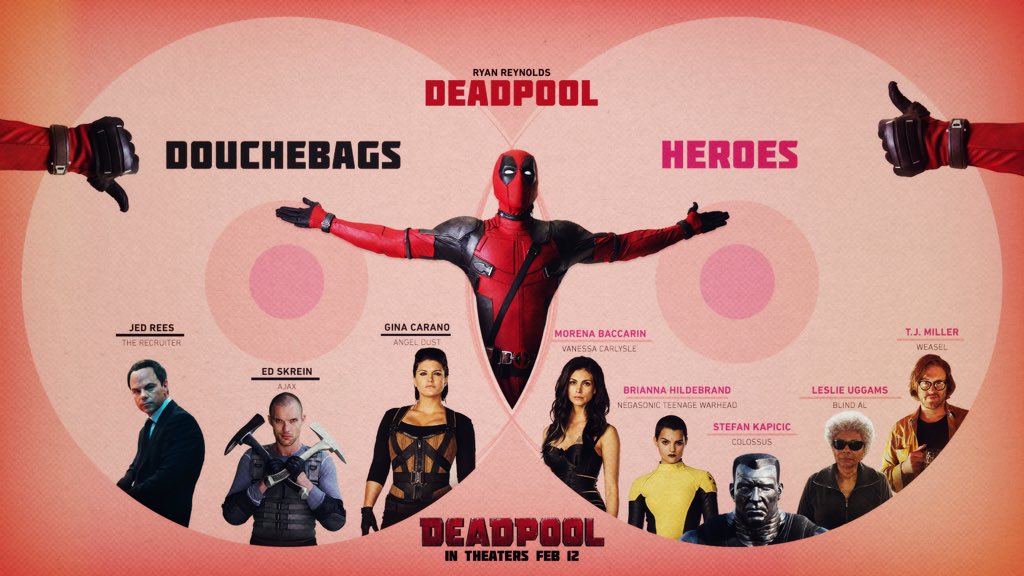 So I went to see this at Alamo Draft House and got my dad to come along to see it. I can't remember what the last movie was we saw together in the theater.  So besides the somewhat better priced (bottomless) popcorn & (refillable) soft drink, not to mention for 21 and older to have a beer (or at least a sample like I do.. this time though I put some of it in my soda! omg The pear beer in Coke tasted like a cocktail! Maybe I'll call it NTW-short for the teen mutant's name! )   I love the clips they show before the movies especially for the comics. When I saw Thor there was a music video or 2 of some metal band. Some of the animated show clips and so on. This one had con clips, cartoons and more..
first off.. I'm quite disappointed that Daniel Cudmore is not reprising his role as Colossus as he played it  in the 1st 3 X-men movies.  So I wonder after seeing this (on Tuesday 16, 2016) if this has been the highest grossing movie yet for marvel…  Deadpool Is The Highest Grossing Movie Ever By a First time director!   and is Estimated To Make $55 Million In Second Weekend
For me I don't really care for what the masses say about a movie as usually if it's all hyped up like Bridesmaids was… I usually end up very disappointed. (hell the movie mom and I watched and gag laughed at one part…)In the case of Deadpool… I'd agree with Rotten Tomatoes:~Deadpool is a Bloody Certified Fresh Film! and I say it IS definitely WORTH seeing in the theater even for General Admission price! Take the family (just no one under 17!! I think even I flinched a time or 2 at some language & I don't offend easily let alone complain about language..) 
The credits montage is a joke in itself with Starring.. God's perfect idiot, gratuitous cameo English villain & my 2 favorites Produced my Asshats and directed by an overpaid tool.  Deadpool Opening Titles Layout Director Reveals How They Came Together
I think there were only 2 parts (maybe 3) of the movie where I (or audience) wasn't laughing at something. Thank goodness for those breaks though!
As far as the Wolverine origins movie the way they had deadpool in that to this.. I'm guessing this one is what the real deadpool looked like in the comics as I remember there was a bit of an uproar about him from that one. There are jokes in this about Wolverine Origins, Hugh Jackman etc. And as I've read about that in the comic Deadpool breaks the fourth wall in the comic to talk to the readers, he does as well in this. I love when shows and movies go meta and all self knowing, I'd say it makes them funnier if its done right which it is here.
Not sure but I could get hanged for this but I think you could say
MORE FUN than the first Avengers movie!!!
again the ONLY thing I am disappointed about was the new Colossus and not Daniel Cudmore as such. Is Colosus supposed to have such an AWFUL Russian accent? It sounds forced and just like bad old movie kind bad accent to me.
So it's Friday the 19th and last night..in  my channel surfing I came upon the Amazing (or was it Ultimate?) Spider-man cartoon… and which episode was it? The Deadpool one epiosde 2.16 which the clips that I saw in the theater came from. I couldn't help but shake my head that I lucked out to see the whole thing. (& Damn if it wasn't as funny as the movie!! lol)
Colossus: Let us go talk to the professor

Deadpool: McAvoy or Stewart? These timelines are so confusing"
Some things learned about the movie-from this Empire list
Below are some links for assorted fodder
Oh keep your EARS open there's is a pool load of Easter eggs in this!!! WATCH <MOVIE FIRST!!!! There IS a spoiler of sorts…
I also want the soundtrack and plan on getting the Blu-ray!!
I CAN'T believe I just saw this headline.. Petitions Call For Deadpool Statue in "the Town That Rhymes With Fun"
heres-how-deadpool-got-away-with-using-marvel-studios-character?
Deadpool was Number One In Sixty Out Of The Sixty-One
Deadpool" Director Tim Miller Was 'Horrified' When the Test Footage Leaked
5 Ways "Deadpool" Flipped the Superhero Movie Script
James Gunn Explains How "Deadpool" Could & Should Impact the Future of Superhero Films
Sorry "Deadpool" Fans — There Willl Be No Director's Cut
Avatar's" Stephen Lang Wants To Bring Cable to "Deadpool 2"
Sources:     IMDB        Ryan Reynolds Releases Graphic Deadpool Infographic