This year… my Challenge will consist of  reading (cross out means done)
 a book series (in Full, or a minimum of just 2-3 books from the series. (however MUST be in succession)
read a trilogy
*anthology (various authors)
*With a letter of the alphabet in the title
*Supposed to have read in School
*Your choice theme
*Book with a Number in the title
*a book with magic
*Book with a Color in the title
*Autobiography/memoir
*a Book to movie adaptation (like Pride Prej. and zombies)
January
Neil Patrick Harris: Choose Your Own Autobiography

starting: January 1st -Jan 13
Genre: Autobiography, Humor, GLBT
Challenge Theme:Autobiography
Format: Choose your own
Order from Amazon Neil Patrick Harris: Choose Your Own Autobiography
I've kept track of the parts I've read in case anyone else is interested in reading the parts I did or wants to read a completely different variation of the book.
my choices have been choose happy childhood-8
Read optimism speech & onto the start learning magic after that. (even teaches you a trick!!)  14
then well getting lazy instead of writing out what it went to I just noted the pages…
40-44,    46-66    115    124      102    94
107 How Neil & his husband David met & David made annotations on the pages. (he seems like a cool guy, and equally funny)
I have so far much enjoyed skipping around, reading the parts I'm curious about and so on. The book is written from the point of view as if YOU, the reader is Neil, though there are spots where it doesn't seem so.  It's smooth flow, witty and interesting.  Keep in mind, if you ever get a chance to meet him… Don't call him Doogie or 'your's the guy that played doogie'. While yes there is a fondness for the character I can see how an actor (even before reading this) would get annoyed etc about being called the name of his character (especially over and over, but people still seem to do it!! and that was the late 80s early 90s people!)
see the full review in the post
Pride Prejudice & Zombies
started…  January 16 – Feb
DNF = did not finish
Book Challenge theme: a book made into a movie
The chapters so far are short, and the text semi-smooth but a fairly easy read. It feels like it picks up then loses steam to me.. I am still trying to get through it but doesn't mean its bad, it's because I'm being a naughty girl & being distracted playing games on my kindle! (I KNEW it would be a bad idea for me to get)
for those of you that have yet to see the movie adaptation, a friend (& the only person's opinion I respect when it comes to movies) was not happy with the movie.
Has been DEMOTED to Waiting & Bathroom fodder~~~~ scratch that…I'm just going to forget about it. Sad though as I had no problem reading the prequel a couple years ago.
February
 Darkness Raging

by Yasmine Galenorn
Started: February 14th -March 19
Challenge theme: Paranormal/Supernatural, Magic, Fantasy, Non-human creatures)
Genre: Paranormal Romance
We start with the girls sitting around waiting for a call from anyone that has seen any activity. One way or another be it from FH-CSI or this call they would still get the call to go out and take care of the creatures that come through the rouge portals from Otherworld.
Telazar (sp) has been upping the ante each time he sends his bone walkers etc. through the portals. The Dragonkin have joined the fight in otherworld.
March
Ready Player one
by Ernest Cline
372 pages
Genre Sci-fi, Adventure, Fiction
Started March 21    Finished April 13
Challenge theme: book with a number in it, adapted to movie    (learn about the upcoming movie )
My Goodreads updates
Sci fi fans and those who grew up in the 1980s will enjoy this."
"Adventure yeah…a smooth read and man do I have to look up some of the 80s pop culture (esp. Some of the did games) in here. Titles sound familiar but don't remember premise"
"I can't stop reading, but at the same time I don't want to finish the book! (It's fun great for anyone that is or has been a 'gamer' or geek of any sort."
The search for the Jade key…sounds a bit legend of Zelda, or just me?"
Wade Watts  our main character and narrative host who is a 'Gunter'; an hunter of a video game easter egg that will change the life of whoever wins it. The story is a plethora of 1980's pop-culture nostalgia.  with a 70s topping & a sprinkle of decades after.
Read the Full Review here  (when Finished)
April/ 

May
Lover Enshrined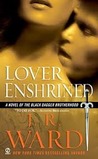 by J.R. ward
Date Started: April  15 -June 14
Challenge Theme:  your choosing, book series
Genre Paranormal Romance
Book #6 of the Black Dagger Brotherhood series  this one is on Phury  the celibate  brother with the  multi colored mane of hair .
Picks up 5-6 months after last books as  it's mentioned Cormia has been at the mansion for that amount of time now. Phury having John hang out with her and teacher about this colorful world (the otherside where the chosen live EVERYTHING is white).
Lash finally takes things too far with John, who attacks him but fails and Quhinn steps getting in trouble. The Omega is looking for his son who is planted among the brotherhood's trainees. So who is it? I think we may have figured that one out when the program started!~ he's rushed to Haver's clinic while Quinn is stuck in a limbo of sorts, kicked out of his family and may get death should Lash die.
140-41 Flashback to when he left home
This is a story of Addiction and recovery as well as evolution (in a sense) the evolution of a races traditions and that some need to be stopped or the race will no longer be.
We not only learn more about Phury but his brother as well, and more about how the species tranditions.
Not my favorite of what I have read of the series so far, but I think that's obvious considering it took me 2 months to finish it. At least  if I'm good girl & can catch up as I'm 3 books behind schedule maybe I can get to reading Rhev's book at the end of the year.
For Full review the-black-dagger-brotherhood-by-j-r-ward/
 

June
The Vampire Hound
by Jim Kraft
Start Date:  June 15 -?
Challenge Theme:  Your Choice                 Pages: 191      age :Children
Genres: Action, suspense,  humor
I stumbled upon this at a thrift store and thought I could read it and give it to one of the kids in my neighborhood. Another thing is, I am reading it to 'cheat' and get caught up on my reading challenge of I think 20 books for the year.
Barksdale happens to be a gentle vampire living in Victorian London, who  uses his fortune to help the poor.
Keeping his secret to a select few, his comfy existence is threatened when a Vampire hunter arrives in London and the hound is his target. Supposed to be action packed of suspense and humor as well. So it started off slow so I had a hard time but becomes more interesting and therefore picks up about halfway through. The story is cute and all the 'people' are animals there's a family of rats,  a ferret & Bear and a few other minor characters.
July
Super What? by Jax Abbott
My rating: 4 of 5 stars
age: YA     Format: Paperback    Genres: Humor, Fantasy, romance
Started:   ? Finished    July 19           Challenge theme: Your choice
Quick read to catch up on my reading challenge.
Jessie is the teen daughter of a couple of Superheroes, and lost her dad 2 years ago. He mom has basically checked out since then leaving her to take care of he lil sis Chloe.
The 15 year old Jessie not only has to deal with normal puberty which is bad enough try getting super powers along with it. "Supurberty" (super puberty as I've dubbed it) when powers are finally showing up. Jessie is going through both at once and has multiple powers, and after a bad bout of cramp, it turns out she's the one that blasted the windows in her classroom (in her school of normals) out without knowing it.
Miranda Rights
Paranormal Detectives book #2      by Lily Luchesi 
Started July 20 –      Genres: Paranormal  Horror Crime Thriller    Format: Kindle
Challenge Theme: Your Choice
I read the first book I think last year or maybe the year before, and enjoyed it. This one I'm a bit confused with not sure if it's another case or supposed to be like a prequel. Maybe it was just a part or 2 that had me think that.  I asked the author and its a Sequel with flashbacks. I'm sure its doesn't help that I don't get to read a chapter or 2 every day. The series is written from Angelica Cross' perspective in the present day with flashbacks to her childhood.
Angelica is the founder of the PID, and has a past with detective Mancini. They were married in one of his past lives. He doesn't like vampires, even though he seems to have been with 2, although one was human when they were together. Witch  Fiona Gargoyle (man that sounds like a monster high character) Wait that's not the right spelling… but its something like Guilfoyle  (maybe that isn't the actual character's name but I don't have my kindle in front of me to check spelling) was obsessed with detective Mancini in his past life, and if she can't have him, then no one can.  Angelica after dispatching the witch in the last book or so we think, learns she is back and thinks she may be a demon or be in co-hoots with them. Miranda a woman from Danny's past and vampire, has come back now that her family is all gone  and joins the case. The witch is utilizing werewolves to attack the detectives, to catch Danny and kill Angelica.  I remember the last book having more action, this one is more suspenseful so I guess with each book we may get more of a heavier lean on a certain genre.  What is Fiona's ultimate plan? Will she be able to make her special Werewolves, ones of her own making that will only be loyal to her, and will they actually succeed in capturing the detectives? Did I mention Detective Mancini is psychic? If he touches someone or something he will see the past.
Order your Kindle or paperback copy here via Amazon
The #Paranormal Detectives Series
Enter the #Underworld of #Chicagohttps://t.co/cKkGbi4mHC pic.twitter.com/ogsDiYj3ng
— Lily Luchesi, Author (@LilyLuchesi) August 23, 2016

The Grave Diggers Ball

by Solomon Jones

Started July 20 -September 23     Challenge Theme:  Your Choice  Genres: Crime   Format: Hardcover

Yes I'm behind on this one, but cold't seem to read this and the book above at the same time.  Maybe reading similar genres at the same time isn't a good idea, might end up mixing the stories up.

For fans of Mystery, suspense crime & Edgar Allen Poe…
as usual it took a little time to get with the rhythm of reading the story. Always end up starting out slow, reading a few pages etc, However the story picked up for me, one I came across the Edgar Allen Poe mention.
Also a story of two of his is mentioned, one of which is  the Gold bug which I started to read while reading this as well… I figured hey while it's being mentioned why not. Maybe it will give some insight to this story in some way. Plus I figure if I didn't read it while reading this book, that I may never get to it.

The story revolves around the theory that "Poe was a seer, and The Raven  is the evidence of Poe's ability to see into places that others couldn't. Those people look at the stanzas about opening doors, looking into darkness and dreaming dreams as well as on the name Lenore, who like Poe can see all things."  Now is this a theory in our world? I have no idea, I don't read into things that much. Though it would be nice if that part of the book was based on a 'fact' (though cannot be proved) from our world.

The deaths revolve around Edgar Allen Poe's The Raven and the possible different interpretation of the poem which is how poe changed the way we see our fears and selves. Poe is said to have been a seer (at least in this book)  and that's the reason he drank because 'The things he saw were beyond human comprehension  horrible frightening things when he saw them he would drink himself into a stupor so he wouldn't have to see them.

When detractors said he copied  the German authors of his time by writing Gothic tale of beauty and murder Poe said

 "Terror is not of Germany, but of the soul and I have reduced it to its likely source"

His stories were his visions he saw and the victims of this book seem to  be those who believe in him as being a seer. The Raven was one of these and saw it at Fairgrounds cemetery where it was believed Poe was a part time gravedigger for a time when things got really bad.

The clue of a cryptogram is found on one of the victims and there's a cryptogram in his story The Gold Bug, (so I will be reading that as well)  i KNEW it! I figured out who the gravedigger is!! The story was cool but sadly no one will ever know what the secret was (would have liked to have had that at least…what a cop-out)

Here's the amazon link to purchase if interested

The Gold Bug by Edgar Allen Poe

Just reading as it was mentioned in the previous book

September 

Harry Potter & the Cursed Child

September 24 -28

WOW I am reading this as if it were the first book, I may catch up to the timeline of the books I'm supposed to read. (I think no more than a week if that.. read over 50 pages 1st night. There's some flash backs, fast forwards and a variety of other literary tricks. This has a nice quick pace (as you can tell by how much of it I read) anyone can enjoy and some may even read it in a day!

I did find it to be a bit repetitive where the time turner is concerned, each and every time Rowling describes it the same way. For me the story didn't have the same 'magic' (pardon the pun) as the original books did. As for Draco's son being named Scorpius.. I found that hilarious in an ironic way… You see I am a Scorpio and as far as the Chinese Zodiac goes I was born a Dragon, so it feels as though that's a bit of a joke between us (not that there aren't other's with the 2 zodiac signs but I was just nearly floored when I first heard Draco's son's name.

I think in a sense you could say the 'flash backs' or them time traveling is more of a filler instead of just an actual new story. I hear this is truely the last one but I think she needs to write one more that  is an actual book and not in  play format. I can understand to do a story like this with the kids as a melting together but why not have one story with just the kids? (of course have our original characters in the story here and there but I think it would be nice if Harry's son and company get their own stories, this way we can get a new generation into the series!   I did feel the old magic when I originally read the books, but at the same time I was/am a bit disappointed I should go back through the book and see how many times she repeated that same thing when the time turner was used (really it was annoying, like she couldn't change it up a bit in the description?)     For me it's a C

Haven't gotten a copy yet? Now's your chance

October

The Graveyard Book

I had heard about this book, but had it on my wishlist. At some point after I heard about it for a time it seemed like many of my friends were reading it; which for me is odd, as I always seem to like (or just hear of) books no one else has. I didn't know it was a popular book. Thankfully someone saw it on my Amazon wish list and gifted a print copy to me. (thank you Alisa)

So once I actually found out what it was about I wasn't surprised about the plot. I always liked walking around at least one certain cemetery, it as usually to get away from the noise of a party I was at as the place I and some friends would have our parties was right next door to a cemetery. On one of my walks which was longer than usual, you would have though I had seen a ghost. I came across a grave with my last name. I told my father and he said it was my Great grandparents. I really think they somehow guided me there that day as a way for me to 'meet' them. I will say coming across that tombstone did freak me out a bit not sure why though.

Anyway my story aside, I thought reading this during October would make it a bit more fun and hopefully spooky.
I did like the story although there were times 'Nobody Owens' skips in age without warning. This led me to a bit of confusion, and I would end up looking back a few pages or as I thought pages were stuck together or I missed a  chapter or 2.   There's a bit of adventure not just spooks but I didn't like that the spirits who were supposed to be his parents and Silas his guardian would not tell him what he really needed to know, it was either never mentioned or a riddle of sorts. I wish I lived across from a cemetery as I would have LOVED to read this in one (especially if I could at night!). It's good read for all ages. Not sure if I have a favorite character out of it though.  The book is definitely worth a read and recommended. I do suggest reading the speech, he mentions how he came about finding out about receiving the award, a cemetery he'd hang out in, how long it took and all that. Most of all  the last page where it says reading, books and most of all Librarians and Libraries are important (but not a free day care..)  most of all he echos something I always say (in a way)

"(Sometimes) fiction is a way of coping with the poison of the world"    

Order your own copy via amazon many formats available 

November

The American Association of Patriots presents

How to Talk to your cat about gun safety

Genres: humor, parodies, form  started October 30- November 30

When this showed up in my email, I thought it was one of the offers I get from a few different mailing lists. I read it and said WHAT? Then awwed over the cute fur-ball kitten on my cover. The cover looking a bit serious, like a pamphlet.  I wondered if it would be written in a fashion where it is humorous, serious or both.

From   Three Rivers Press, this 136 pages of  'political'  hot topics showed up in my mail box. How could I not give that little cutie on the cover a home?  The book covers what many of use would consider  hot button (political, religious and life) topics. Some of which sometimes fall in to more than just one of those, for instance."Abstinence, drugs, Satanism, and other dangers that threaten their nine lives" 

After reading the first essay with 'purr'fect puns, a few laughs at the writing and pictures of cats with guns..I'm on the 2nd topic which is evolution. Whoever actually wrote this sounds like a religious zealot or some sort if cult member to me. I am having a hard time reading this as a humor book as it seems more serious even if you take it both ways.

Now here is where in my draft I had written my own two cents to a few things but I am trying to keep that sort of thing out of the review(or at least wait until later to include )

As mentioned, there are pictures which I just wish they were in color (or at least some if them).

Now whether this 'pawson' is serious or not with this book, the back does say its supposed to be humor, but there's no actual laughing moments.  Its something that could be used to teach your child about these things if  the topics were cleaned up a bit (taking out anything in here that Donald Trump would say) as they also had to include their beliefs into it (it would have been nice to have a warning  the cover…I mean after all in the 1990s they slapped explicit lyrics labels on CDs, how about religious ones so we know what we are in for? Unless you are writing a book on religion as a topic, or the story is based on it, then leave it out especially if you are already dealing with politics. (even if the book is supposed to be humorous.)

Read full Review      how-to-talk-to-your-cat-about-gun-safety

I have received this book complimentary from Blogging for Books for this review."

December

The Bite Before Christmas

Lyndsay Sands & Jeaniene Frost


November 30 -December 25

This was given to me as a 2015 holiday gift from my Pen Pal  Donna. If there's some holiday theme in a book, I like reading it during that time. Not sure why but I guess it feels like it just adds to the reading experience to me.

There's 2 stories in it, one called 'The Gift' which started on page 3 – 116

about an immortal (they don't like being called vampires)
who is vacationing in one cabin and Teddy is in another and they are snowed in. Could this human be her life mate. ?I do like the story on how the vampires came to be in this. Haven't come across that so points on originality for the vampires' origins story here. There was also and thankfully smooth flow to the writing as well. Did I like the story? Maybe if I was stuck in a cabin in the woods after it had snowed. (Honestly this would be perfect for reading then or even if you are just at a ski resort!) The story was ok, the pace was just right and it was a sweet story. I'd say cliche and more romantic
Today I Started the 2nd story  which starts on page 119 and goes through 270

I did quite enjoy "Home for the Holidays by Jeaniene Frost. Cat (aka Reaper)  is in the vampire's house setting up something (a camera?) and it is also inhabited-by a ghost named Fabian. So you may think she's on a scouting mission right? Wrong.. It had action, a bit of suspense and some other elements in there as well. Wraith another vampire comes along claiming he's Bones' brother. However everyone is on end as Annette was attacked at her hotel earlier. Is Wraith the culprit, or is he who he says he is? The flow of the writing in this was better than the previous but that could be because of the type of story. There was more going on and at stake plus you  weren't just stuck in one place the whole time,

The Vamps have to team up with a demon to help their friends out of a VERY sticky situation.

I may save this to read again in the future.

there's also 2 previews from upcoming books at the end.   Order the format you want here