Season 6
Well that Battle of The Bastards episode  was great, and the season finale ahem…explosive in a literal sense.
Here are some of my favorite Highlights between the 2
"You will Die tomorrow Lord Bolton…Sleep Well" I think that may be the best 'burn' I've heard yet!
I thought however that we'd get to have a bit more 'fun' with Mr. Sansa, but oh the satisfaction I felt for her! Though I'd rather it all be done by my hands.  Also I thought we would be missing at least one main character and I don't mean one of those on Arya's list for good and have a bigger head count this year. The North Remembers Speech.. And the tweet of the year (a some faced and RTs….)
"Hail the King of the North, long may 'they' reign.:
How many catch phrases did you catch in the Game of Thrones finale?
MEET 15 NEW GAME OF THRONE CHARACTERS CONFIRMED FOR SEASON 6
Most Likely to die in season 6
Season 5.… Dead or not? Why am I surprised they did kill him but yet feel as though he's NOT?
Season 4 highlights..
A quick rundown of what I remember from last season
Night's Watch vs the Wildlings,  Joffrey chokes on his own d-bagery,  for this Tyrion is accused. Lord Balish helps sansa escape the Lannisters while the youngest Stark daughter Arya takes out one of the members of her hit list. Tyrion kills his father, and the Dragons are last seen locked a way for being bad.
This game-of-thrones-season-5…a-primer is a great recap of where all the characters etc. are now  *  here is another
http://www.slashfilm.com/everything-you-need-to-remember-from-game-of-thrones-season-4/
A little news I remember reading
I don't know how things go in the book, so I cannot speculate what might be included from them,  I do know that the Youngest Stark male and Hodar are not to be in this season. Instead will be trained by the 3 eyed raven off screen.
'Game of Thrones' cast make up lyrics to show's theme song
The following popped up on my Twitter feed I saw the animals before I realized what it was. So we have double the entertainment with these  Game of Thrones fan quotes to pictures of animal emotes
https://disqus.com/game_of_thrones_comments_cute_animals/
So how was the season 5 premier?
game-thrones-before-they-were-stars/
Game of Thrones Theme song lyrics
It didn't feel like it was an hour long, It went pretty quick.  We see a flashback from someone's childhood, can you guess who it is? They see a witch who tells them
their future. I think we saw maybe 4-5 different areas of  westreros in this episode… (man this is hard to write up, as I'm trying not to give things away.) Jon Snow is training, Danyres still on her throne inside the pyramid (I forget the name of the place) and what of her dragons? Yes you will get to see them in this, and I was a bit surprised as to mama Dragon's reaction. Unfortunately we don't get anything on Arya in this episode (that I recall anyway) Sansa & Balish are seeing to her cousin's training and that's really all I can remember (without giving anything really good away)
I heard about these audio and Kindle books on amazon How Game of Thrones Will End: The History, Politics, and Pop Culture Driving the Show to its Finish
&  Winter is Coming: Symbols and Hidden Meanings in A Game of Thrones
  I'd definately be interested in the Symbols and hidden meanings but I can't stand audio books, and I do not have an e-reader yet. (also i've had enough of these sort of books after reading the Harry Potter type ones.
With the varied cultures and myths of influence like Norse, Celtic and even medivel as well as maybe reminders of certain classics, Lord of the Rings, Narnia and others as well as the symbolism in the show. Have you wondered how the penultimate battle will end, who will take the throne (my money is on Danyres Storm Born or Arya Stark if it's anyone else.. I will be very well surprised!).
When Ned Stark was surprisingly beheaded in the first season, anyone from that point is fair game. It could also be something like the Walking Dead;  when they become the moral compass of the show they end up as zombie chow.  Well in this we know it isn't a moral compass as considering D-bag Jeoffrey, who played a donkey's behind till the very end; oh and let's not forget taking after his grandfather… was it any surprise (not to mention the laughter) at Tywin's demise? I have a feeling 1 more Stark will die by the end, I'm just not sure which.
Inside HBO's Game of Thrones: The Collector's Edition via Amazon
I've heard whispers of some who think it will be Jon Snow and Danyres  in the end or share something (is her mother Jon's biological mom?)
Those whispers I doth think were in Dothraki, which Entertainment Weekly has dubbed the new Klingon!
You can learn it with this book Living Language Dothraki: A Conversational Language Course Based on the Hit Original HBO Series Game of Thrones (Living Language Courses)
via Amazon
Sign up for the Goodreads page a-song-of-ice-fire-fans
I have yet to read the series, but I guess in a way I am a bit intimidated. For one the length of the books, also and especially I  think I'd get a little confused with so many characters and setting and such I'm quite hesitant to read them.(another reason would be the pile of books to read I could either fill a smart car or mini cooper with or build my own out of the books. more likely fill) so  for those like me who have yet to read the series
here are the covers of the books from the series and below there's links to order the box sets from amazon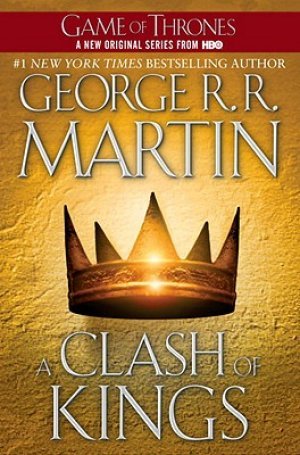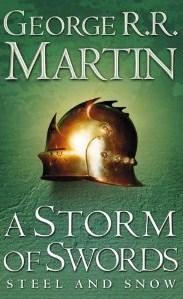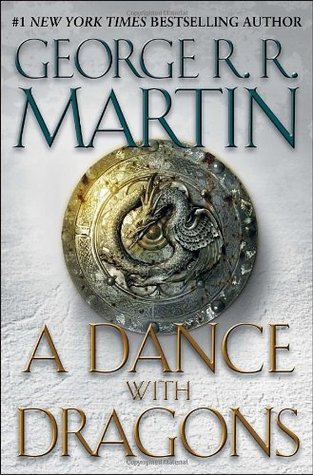 *A Game of Thrones: The Story Continues: The complete box set of all 6 books (A Song of Ice and Fire) by Martin, George R. R. (2012)